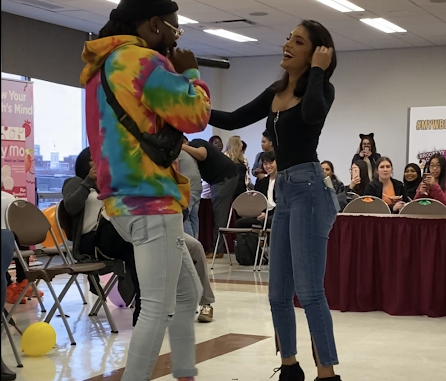 On Thursday, Oct. 31 in the Gold Room of SUBO, Brooklyn College hosted a Halloween festival for staff and students.
   The event was hosted by Brooklyn College student, Jamie Jones, who contacted the student government for funding and approval of the event. The event featured musical guest appearances from the singer Teemanay, as well as guitarist and self-proclaimed "Ruthless Dictator of Brooklyn College" Mosefer Muhsin. Also at the event were models dressed up in clothing from fashion label SoFrekan.
   "Frekan is a French-Creole word which means fresh and disrespectful, but we turned it around to mean fresh and cool," explained the founder of the SoFrekan brand, Ed Bellevue. "It's all about your uniqueness, it's all about you."
   The models for the event, who represented the Starchasers artist collective, were BC students managed by Alexander Pereyra, who himself had been mentored by Oriel, another artist present at the event.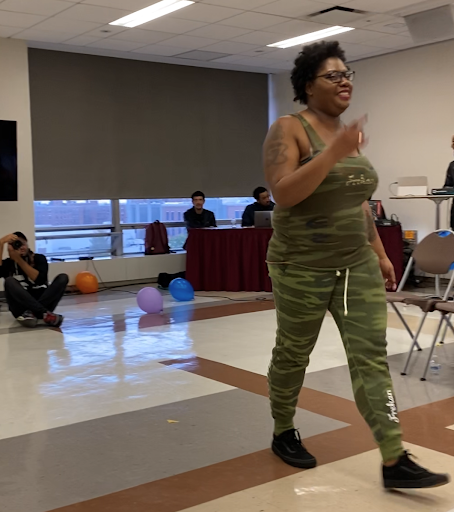 "[Starchasers is] an art movement of young creators striving to be the best that they can be themselves using their artistic talent," explained Pereyra. "Brooklyn College has been an attraction for me, because I see a lot of creativity here and I see a lot of influencers here." 
   Oriel, a BC alum and artist shared his journey with the crowd. He spoke about obtaining several degrees in psychology, religion, and philosophy from different universities and how he still spends most of his time making and selling his art. He shared his experiences of being an artist as a person of color, where he alleges park rangers and NYPD would kick him out of the park for not selling his art on a table.
   "[The police] have been hating on me because I'm not just focusing on making money, I'm inspiring other students," Oriel insisted during his presentation. He uses his platform as an artist to inspire people to change their negative view on people of color, and to encourage those to make the art they are meant to make. 
   Among the other features, there was a salsa dancing seminar. Students and faculty danced in duos to DJ Snake's "Taki Taki" while an instructor demonstrated the correct form.
    Jamie Jones, the event's main organizer went through considerable effort in order to get the festival going. With just a $500 budget from USG, Jones resorted to paying out of pocket. 
   "We did a lot of planning and getting student government to help us, but then we also used our own money… our own personal money to get everything together," Jones said.  
   Jones also had to manage the guests, reaching out to several possibilities before winding up with who she wound up with.  For some guests, SoFrekan for example, she had met at a fashion show, convincing him to host another fashion show on campus using some of her marketing skills from her time on the Marketing Club at Brooklyn College. This interaction alone landed her two internships for the coming semester, one with Sofrekan and one with fashion designer Rue107.
   "You have to plan, communicate and also, make sure, step-by-step, everything flows, everything goes together… And you'll be just fine," Jones advised.  
   Jones considers the event a success.
 "This event was more for bringing Brooklyn College students together and showing the international races of all students, and just being, like, one big happy family."