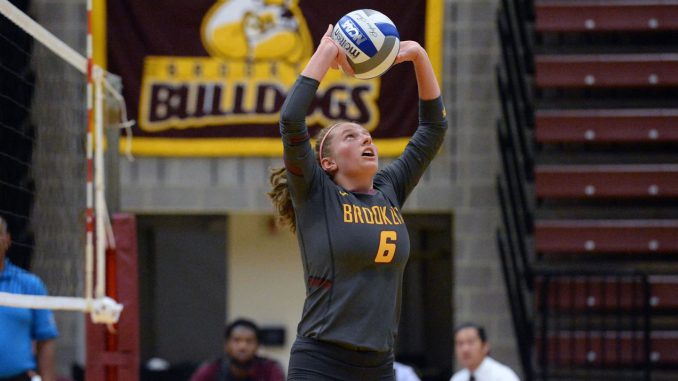 The Brooklyn College Women's Volleyball team's season came up short of the CUNYAC trophy after falling to no. 1 seed Hunter College in the finals, despite making an incredible comeback against Baruch in the semifinals.   This was Brooklyn's first appearance in the CUNYAC Championship since 1992, and it capped off a successful season for the Bulldogs.
In the semis against Baruch, the Bulldogs were down 0 sets to 2, but rallied to win the next three and pull off the miraculous comeback. The Bulldogs' depth was on full display as they chipped away at leads and used their momentum to overcome deficits. The set scores were 6-25, 21-25, 25-21, 25-19, and 15-9.
Brooklyn had 63 points in total compared to Baruch's 73; 53 kills to Baruch's 56; and 5 aces to Baruch's 11. Ashley Fung led the way for Brooklyn with 17 kills, and Madison Cronk and Alejandra Chen contributed with 14 and 9 kills themselves, respectively. Sophomore setter Ezri Shor finished the match with a match-high 41 assists.
Every time it looked like Brooklyn was down and out, they found a way to come back. In the third and deciding set, Brooklyn trailed 17-13, before rallying off five straight points, taking an 18-17 lead, and eventually winning the set 25-21.
After the thrilling come-from-behind victory, the Bulldogs were set to go up against the mighty Hunter College squad, a team that assistant coach Michael Pratt told the Vanguard earlier in the season were the heavy favorites this season and a mighty powerhouse.
The Bulldogs fought valiantly, but ultimately it was not enough, and they fell to Hunter 25-12, 25-19, 25-16.  Brooklyn had 30 points to Hunter's 51, and 24 kills to Hunter's 42. Both teams had 5 aces.
The Bulldogs finished the season with a 16-14 overall record, and were 5-2 in conference play. Freshmen Ashley Fung and Madison Cronk were standout performers all season long.
Fung specifically was named 2019 CUNYAC Rookie of the Year.
For the season, Brooklyn tallied 1,038 kills to their opponents' 1,030, 588 errors to their opponents' 633, and 313 aces to their opponents' 236.
For a young team, the level of resilience and camaraderie shown were extreme bright spots on an already-successful season. The comeback victory against Baruch and toughness shown against Hunter only serve as further evidence of this, and are positive notes with which to go into the off-season.