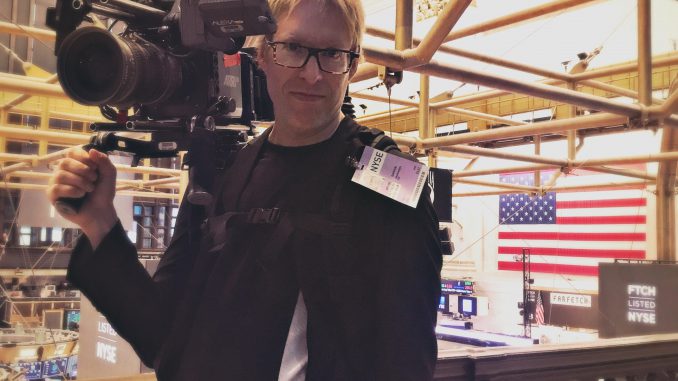 A How-to from Bryan Sarkinen, Cinematographer
[This story has been edited to correct misinformation.]   
It's hard to break into any profession.  One of the more niche careers to break into is "documentary filmmaker." So, I thought I'd talk to somebody who has already, you know, done it. This brings us to Bryan Sarkinen. Bryan's work has been seen on HBO, Netflix, and CNN – and at your local art theater. Bryan was back in New York City in between Moonshiner shoots (Number 2 in the redneck reality cable shows). 
   One way people dismiss your choice to get into film business is by saying you have to know people in the film business.  I'm not saying that there is no truth in this, but this was not Bryan's personal experience. Bryan arrived in New York City from Western Massachusetts as just another nobody attending New York University. On his way out of Port Authority, he got mugged, only to frustrate his attackers by being broke. 
   Bryan double majored in Film and Journalism. Unlike most NYU students who tend to the Trust Fund Baby side of life, this guy had to work while going to school.  Bryan took advantage of all the media sources where he could gain experience. He worked for the college radio station and basement video checkout where he got his hands on all sorts of video gear. He eventually started a show for The College Television Network called "The Final Cut". where he interviewed celebrities on their press runs (this was broadcast to hundreds of college campuses).  In his downtime, he watched every movie and every bit of live music he could see.  
  He had to fend for himself with just the connections and friendships made with four years of college. He did about every type of film job he could get his hands on – other than porn. He shot wedding videos. He filmed his share of awful rock bands from New Jersey that came to CBGB's for collegemusic.com. Some of this stuff, he could have been made a career of, some people make wedding videos for the rest of their life.
   However, instead of staying with an obvious cash cow, he started to take lower-paying jobs with higher profiles. He started working for P. Diddy's Bad Boy Films from a connection he made while interning at The Today Show in college; ultimately going on tour with Diddy, as his videographer. He had to prove himself to the tour crew. Bryan went in with a rendition of a Biggie Smalls jam with his own dance interpretation in tow.  Snoop Dogg, who was on tour with Diddy, was so impressed that he promised to get Bryan laid. He didn't.
   Again, it was time to step into the abyss and do something new.  Bryan entered into the burgeoning — at the time — reality TV market.  He worked a show called "Bikini Barbershop New Jersey" for Mark Cuban's then HDNET, which was just as classy as it sounds.  It only lasted a season, but that got his foot in the door to that market.
   By keeping a wide variety of projects open and making connections along the way, Bryan worked his way to doing cinematography for people like Andrew Rossi, Erin Carr and other high-profile directors making socially responsible documentaries. 
   Erin Carr's "At The Heart of Gold" was just named one of the fifteen most important HBO documentaries by Esquire Magazine. His documentary "Bronx Gothic" directed by Andrew Rossi featured MacArthur genius award winner Okwui Okpokwasili.
   "It's really the telling of socially conscious stories that excites me," Bryan said. "To be able to educate and inform is key to making the world a better place."
Listening Bryan tell his story, what I can summate is that he used all the resources at his disposal at all times.  He worked hard. He has sustained countless injuries on the job. He seems like an amiable and (quite frankly) goofy guy.
   Nevertheless, Bryan has managed to make it doing what he wants to, and accomplishing it the how he wanted to.