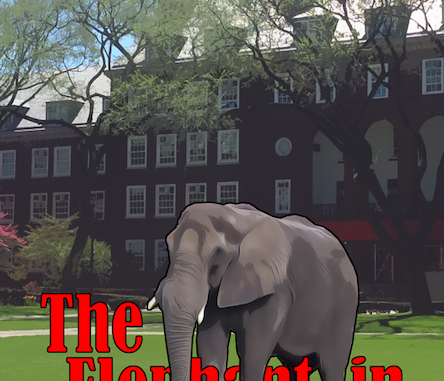 It's now a familiar sight to anyone who's walked the East Quad: a student stands behind a plastic folding table on the Whitehead Breezeway, peering out at the trickle of students ambling to and from class, handing out buttons and fliers. He's talkative, with a close-cropped beard. His name is Christian Cozlov, and watching him hand out buttons and chat with passersby, you'd never guess that a little under a year ago he was the most controversial student on campus.
   As a member of the Brooklyn College Young Republicans (BCYR), Christian Cozlov gained a reputation as a right-wing provocateur, infamous for walking around campus wearing a "Make America Great Again" hat and a sweater reading "Build the Wall." His antics eventually cost him the goodwill not only of the college's left-leaning student body, but with his own club, and BCYR put him on probation.
   Cozlov says that he now regrets his past behavior. "I felt like being edgy or something on campus," he told Vanguard. He's now traded in his MAGA hat for a wardrobe of sedate polos – and he's traded his membership in the Young Republicans for one in Turning Point USA, the far-right organization which now has a Brooklyn College chapter headed by Cozlov.
   Any right-wing group would have a hard time getting off the ground at a school like Brooklyn College, where the majority of students are liberals, or even socialists. It's no secret that college students tend to lean to the political left. Brooklyn College in particular has a tradition of left-wing activism as old as the college itself, from anti-fascist demonstrators in the 30s to the militant Black and Puerto Rican radicals of the 60s to the modern-day socialist revival figureheaded by Bernie Sanders (who himself attended Brooklyn College, albeit for under one year). There are at least a dozen clubs catering to these left-wing students: Brooklyn College Socialists, the Student Union, and Students for Justice in Palestine most visible among them. But there's still a small group of conservative students on campus, mostly functioning under the radar.
   Some of Cozlov's former colleagues from the Young Republicans are wary of his more "in-your-face" brand of conservatism. A schism has formed between the more moderate politics of the BCYR and the more radical politics espoused by Turning Point USA, one which mirrors the split between "never-Trumpers" and the president's vocal legion of supporters. As the two fledgling conservative clubs jockey for members in an overwhelmingly liberal campus, the biggest threat to their longevity may be themselves.
   The story of the Brooklyn College Young Republicans (BCYR) begins in May 2018, with Isabelle Guillemain. Guillemain had attended high school in the Upper East Side, where her conservative beliefs made her an outlier in her liberal-leaning high school.
   "I stuck out like the sorest thumb," she recalled. "I was a purple sheep – because black sheep are real and purple sheep aren't."
   Guillemain's conservative awakening happened in 2012, watching Mitt Romney debate Barack Obama for her seventh grade social studies class. Before then, she didn't have any concrete political views, owing to growing up in a politically mixed household.
   "I had been hearing a lot of political-minded stuff at that point because my mom was always a Democrat and my dad was always a Republican, but they didn't stay in their party line," she said. "Particularly with Obama, they weren't always fans of him."
   Guillemain didn't vote for Trump in the 2016 elections (she was below the voting age on Election Day), and her support for the president was lukewarm at best. During the primaries, she threw her support behind Ted Cruz, primarily for his unabashed pro-Israel foreign policy.
   "In the past, other presidents haven't really done so much, not even recognizing they [Israel] have the right to determine their own capital," she said. When Cruz discussed Israel during the debates, she thought "he [Cruz] literally looked weepy," noting that "his wording and his emphasis really touched my heart."
   When she committed to BC in May of 2018, Guillemain was eager to find like-minded individuals with the same set of interests: psychology, Jewish identity… and conservatism.
   "After I got accepted, I was on the old Bulldog Connection, pre-Engage, and I was going through all the clubs," Guillemain said. "It was cool that they had a Young Republicans club, because my high school had no Republicans."
   Guillemain reached out to the old club's e-board members, where she found a slight hiccup – the club was inactive, and she would need to reactivate it with a new e-board.
   "So I texted every chat I was in, asking 'hey does anyone want to be on the board?'" said Guillemain.
   At the time, she was in the group chats for a trio of Jewish and pro-Israel clubs – Chabad, Hillel, and Bulldogs for Israel – and the e-board she scrounged together reflected that. 
   "A lot of the people that I recruited into YR were Jewish because that was the circles I was in, said Guillemain. "I wasn't going to stand in front of my classes and say, 'hi, I'm a Republican!'"
   The first wave of members may all have been recruited through Guillemain's connections with Jewish groups, but once the group was re-activated, a few goyim began to trickle in. One was then-junior Alex Tlatelpa, who had just transferred to the college from BMCC. One day, his friend and fellow accounting major Abraham Friedman (who was then-treasurer of the BCYR) mentioned a small group on campus that was meeting and asked Tlatelpa to come along.
   "It caught my eye," Tlatelpa said of BCYR. "So the next time they had an event I attended and I appreciated the different viewpoints I had a chance to hear about."
   Tlatelpa isn't exactly the poster boy for the modern GOP. He's Mexican-American, and during his time at BMCC he would frequently participate in pro-immigration rallies. So it comes as a surprise to many that he actually supported Donald Trump during the 2016 primaries, and ultimately voted for Trump in the general election.
   "At the time, most of America thought Trump being the nominee was a 'joke,' that it wasn't going to amount to much, so when I told people I was thinking of voting for Trump it was brushed off," Tlatelpa said. "Nowadays most people are appalled, and they have lots of questions and concerns! In some ways they have resentment."
   Tlatelpa describes his vote for Trump in 2016 as "the lesser of two evils," borne of suspicion towards the scandal-ridden Democratic nominee Hillary Clinton. After nearly three years of a Trump presidency, he now has second thoughts.
   "I understand why I voted that way," Tlatelpa admitted. "I didn't think that much of what happened afterwards, like the travel ban or like the attacks on minority groups, would actually happen."
   While Tlatelpa was cooling on the Donald, Christian Cozlov was just getting warmed up.
   Cozlov was largely uninterested in politics before 2017. At the time, he was majoring in philosophy at LaGuardia Community College, and he "identified as a Democrat liberal without paying much attention to it." That's when a family friend turned him onto the conservative YouTube personality Ben Shapiro.
   Cozlov was instantly hooked.
   "I started to really get into these videos on YouTube," Cozlov said. "I got more and more passionate about political issues the more I researched. I started to feel like a politics nerd all of a sudden."
   Cozlov says he watched videos of both left-wing and right-wing figures, but he soon gravitated towards more conservative viewpoints. He became an admirer of Jordan Peterson, the Canadian psychology professor famous for attacking post-modernism and political correctness. He became a devotee of PragerU, a YouTube channel hosting five-minute primers on various conservative talking points. And he was inspired by Steven Crowder, who became famous for sitting down on college campuses next to signs reading, e.g. "MALE PRIVILEGE IS A MYTH – CHANGE MY MIND."
   "I thought, how cool, having debates with students with logic and civil arguments, no flame wars," said Cozlov. "One of the things about philosophy I really like is ethics – what's morally just, you know? And I started to see that in relation to politics. I started to understand the difference between principles and facts." It's a distinction clearly influenced by the likes of Ben Shapiro (whose catchphrase is "facts don't care about your feelings").
   After a year of viewing and his own research, Cozlov did a 180. In 2016, he "didn't even care about politics."
   "Obviously I disagree with Trump on things," he added. "I'm not a loyalist. I'm not a fan of things he says on Twitter. I'm not a big fan of his attacks on Democrats so much, we should be more bipartisan to get laws passed instead of having this war in the government. I'm not a big fan of his spending – there's currently a one trillion dollar deficit, and it's projected to be more next year, although I don't fully blame Trump for that. And I'm very pro-Second Amendment and I think Trump hasn't been very supportive on that aspect."
   "If I was going to compare the current Democratic or Republican nominees, I think he's the best choice," Cozlov concluded. "I support tax cuts. I support Trump's decisions with Supreme Court justices."
   Cozlov says he "[doesn't] particularly support" justice Brett Kavanaugh – he sees Kavanaugh's appointment "as a way to steer us in the direction of more second amendment rights," as well as reversing Roe vs. Wade in favor of a decision that would leave abortion rights up to the states. He dismisses the controversy surrounding Kavanaugh's appointment as pure partisan politics.
   "They wanted to make him out as a gangbanger, but where's the evidence?" Cozlov asked. "My position is that there isn't really any substantial evidence with regards to Christine Blasey Ford's allegations, and the hearing was basically, from my point of view, an attempt to smear a conservative Supreme Court Justice."
   As it turns out, the Kavanaugh hearings would kick off one of the most contentious periods in recent campus history. However, it wasn't Blasey Ford's testimony that riled up the campus – rather, it was a little blog post by a business professor.
   "In the future, having committed sexual assault in high school ought to be a prerequisite for all appointments, judicial and political."
   So said Brooklyn College professor Mitchell Langbert on his personal blog on Sept. 27, 2018. The post went viral almost immediately, and within a week, over a hundred students were picketing on the East Quad, calling for Langbert's immediate termination. Members of the college administration, including BC President Michelle Anderson, were present at the protest, with Anderson herself referring to the post as "repugnant to our values as an institution of higher education." And yet, Anderson refused to accede to student demands to "#FireProfessorLangbert," citing the First Amendment and Langbert's academic freedom. (Protesters cynically suggested that these lofty ideals were a smokescreen for a simpler fact: the college couldn't fire Langbert because he had academic tenure.)
   Rather than apologize for his statements, Langbert amended his blog post with a disclaimer stating that he had intended the post as a work of "satire," and doubled down on various claims in the article, including his characterization of the Kavanaugh hearings as a "travesty" initiated by "a party of tutu-wearing pansies [and] totalitarian sissies" (read: Democrats).
   None of the members of the Young Republicans interviewed for this piece were willing to sign off on Langbert's post, even with the caveat that it was satirical. Tlatelpa described the post as "unbelievable;" Guillemain was similarly uncomfortable with the post's content. Cozlov went a step further.
   "I think if you rape somebody, you should get the death penalty," he said. "I see the point on why that was not a good point to make. But I also don't think he should be fired for it."
   Still, he felt like the Young Republicans should support Langbert, on account of his conservative politics.
   "We're the Young Republicans," he explained. "We wanted to talk about how campuses tend to be left-leaning with respect to professors. And we wanted [Langbert] to explain his idea that campuses aren't preparing students for life, but indoctrinating them with left-leaning views." (Cozlov was referring to a study Langbert authored a few months prior to the protests titled "Homogenous: The Political Affiliations of Elite Liberal Arts College Faculty," which claims that Democrats outnumber Republicans on college faculty at a ratio of ten to one.) So Cozlov reached out to Langbert, and set up an event in the Student Center with Langbert as the keynote speaker, hosted by the Young Republicans.
   Not involved with the creation of this event were the three members of the Young Republicans' E-board. Guillemain says that no one on the E-board supported the event, nor did they want to get involved, both because they disagreed with Langbert and because they were swamped with schoolwork.
   Even outside the E-board, most of the BCYR were not on board.
   "The idea that a man has to sexuallly assault someone to consider a man is bonkers," said Zack Nomer, who was a member of BCYR up until this semester. "Even if we came out as defending the First Amendment, if we invited him as a speaker, it'd sound like an endorsement." He claims that Cozlov "went behind the E-board's back and just made an event."
   The event, titled "Effete Millennials in Illiberal Universities," was a riveting success – for the progressive students who loudly boycotted it. Langbert's prepared talking points were drowned out by loud dance music and cries of "sexist, racist, anti-gay, Michelle Langbert go away."
   "I'm not happy with how it turned out," Cozlov reminisced. "You're invading my event with signs, with yelling. I'm a supporter of free speech. When you use your own free speech to have other speech silenced, I don't think that's a free exchange of ideas."
   ("Silenced" in this case was literal – Cozlov got into a minor scuffle with a protester who attempted to unplug Langbert's microphone.)
   Guillemain was also dissatisfied – not just with how the event went, but that she even allowed it to happen in the first place.
   "No one else had spoken up, so I figured, 'I won't veto this, everyone is happy about this,'" she said. "No one wanted to be the one to veto it, so that happened, and I'm not so proud of it."
   "I think that's part of why I left the club," Guillemain said. "I'd rather just be a member and let people who have more passion do what I want to do. I'm a people pleaser to a certain extent, and I wanted a club where I didn't have to please as many opinions."
   She then texted everyone she knew, looking for a replacement as president, ideally one that shared her more moderate brand of conservatism. This would have ruled out Cozlov, had he any interest in taking her position.
   Eventually, she reached out to Zack Nomer, a BCYR member who she knew from the Hillel.
   "Zack said 'I want to make [BCYR] super moderate,' which is what I wanted," Guillemain said.
   Nomer is a centrist, but that's where the similarities between him and Guillemain end. Where Guillemain is tactful and unerringly polite, Nomer is loose-lipped and chummy, with no qualms about using colorful language.
   Consider his evaluation of the 2016 Republican primary field: "You have Trump, who's an idiot, you have Ted Cruz, who's the Zodiac Killer, and you have Jeb Bush who's like watching a piece of dry toast talk." Ultimately, while he had a soft spot for Rand Paul, Nomer put his support behind John Kasich, "because he was the most centrist one."
   When the "idiot" got the nomination, Nomer found himself in a familiar dilemma.
   "I think I've maybe met one or two people who legitimately like Hillary Clinton," Nomer said. "Everyone in my family is military, and there was one speech she gave about a potential military solution with Russia. That scared the shit out of me. I voted for Trump because I didn't think he'd go to war to Russia."
   "Little did I know!" Nomer laughed.
   As his words would imply, Nomer may have voted for Trump, but as time passed he began to drift further and further away from the GOP. By 2018, Nomer says, he was still registered as a Republican and held certain conservative values, but considered himself anti-Trump. So when Guillemain gave him control of BCYR at the beginning of the spring 2019 semester, Nomer saw a chance to push the club towards a more centrist perspective.
   Almost immediately after getting the position, Nomer used his power as president to make a sweeping set of reforms meant to, as he put it, "eliminate all radicalism from the club."
   The first of these reforms was a reading list.
   "I made everybody read the Constitution, which I figured was a pretty good starting point," said Nomer. Also on that list: the Declaration of Independence, "The Wealth of Nations," and, perhaps surprisingly, "The Communist Manifesto."
   ("My process is, if you're going to debate something, you should understand the other side," Nomer explained. "When I was learning about anti-Semitism in high school, I sat down and read Mein Kampf.")
  Nomer also instituted a dress code: Trump paraphernalia wasn't necessarily banned, but Nomer discouraged wearing it around campus, because "as a club we're not endorsing any particular Republican." While the rule didn't mention Christian Cozlov by name, Nomer admitted that the dress code was in part a response to some of Cozlov's affinity for tops bearing slogans like "Build the Wall."
   "Christian had a shirt that said, 'Socialism Is For F', then a picture of a fig, and then a G.S," Nomer said. (Figs, needless to say, stood in for a different word). "And he was wearing it to the Hillel. I said, 'dude, you cannot wear that shit when you rep BCYR. You're doing it just to provoke people.'"
   Nomer and Cozlov's relationship was further strained when Cozlov was accused of harassment by the then-figurehead of BC's progressive alliance, Carlos Calzadilla-Palacio.
   "Carlos and I met at the Club Fair. He was tabling for the Young Progressives [of America]," Cozlov said, referring to the left-wing activist group Calzadilla-Palacio founded while at LIU Brooklyn. "That's how I met him. He knew I was part of the Young Republicans. We started to have our banter whenever we crossed by each other."
   "I remember one time he said… he knew that I'd wear a Build A Wall sweater, so he would say something like 'we're gonna take down your wall.'"
   "There was this one time we had a spat. We passed by each other and he looked really angry and I asked, hey man, what's wrong?" Cozlov continued. "Usually we'd say hey, not a friendly hey but a sarcastic hey. An 'I can't stand you' hey? But this time he didn't respond, so I got concerned. We usually have some kind of interaction, even if it's not the best kind."
   "Eventually we got into an argument, and he accused me of harassing him."
   Calzadilla-Palacio disputes this version of events.
   "I was never friends with Christian, and never engaged in any 'friendly banter,'" he said. "This is a false claim just like the other false claims I have received by a small clique of haters with political agendas against me." (Calzadilla-Palacio did not specify who these "haters" are; this is possibly a reference to the allegation that he made racist comments against his Muslim opponent in last semester's campus elections, an allegation Calzadilla-Palacio denies.)
   "I was harassed multiple times by [Cozlov]," Calzadilla-Palacio claimed. "There's even video footage that prompted a no contact order for the semester. He is the only person to blame for being removed from the Young Republicans for his inappropriate behavior of harassing multiple people."
   Cozlov insists that no such video evidence exists, and that while he was issued a no contact order, it was a temporary one which expired when he was exonerated of Calzadilla-Palacio's harassment charges.
   Michelle Vargas, the officer in charge of the investigation, declined to confirm or deny either student's story, citing confidentiality concerns.
   Nomer conducted his own informal investigation, doubting Cozlov's claims that his interactions with Calzadilla-Palacio were just "friendly banter."
   "It's friendly banter in the same way that Trump debating Hillary Clinton, saying he would throw her in jail, was friendly banter," Nomer said. He checked in with Sau-Fong Au, the director of the Women's Center, to see whether Cozlov had been harassing students there. Au told Vanguard the same thing she told Nomer, that she was unaware of any harassment.
   While Nomer looked into the claims, he removed Cozlov from BCYR's group chats. It was then that Cozlov started petitioning for his Turning Point chapter.
   "I told Christian, 'we can't have this behavior in the club,' and he turned around and started his own thing," Nomer said, referencing Cozlov's Turning Point chapter. "So I removed him from the club."
   Cozlov claims that he quit BCYR rather than being removed from it, due to political disagreements between himself and Nomer, as well as dissatisfaction with the lack of activity at BCYR. Turning Point is more his speed.
   "They're a well-known organization that's well-funded, with a lot of speakers," Cozlov explained. "I requested their activism kits online and brought them to campus." The kits contain brightly-colored flyers with high production values, marrying conservative slogans and iconography with millennial-friendly language and pop culture references: a poster with "SOCIALISM SUCKS" in the red neon font of the "Stranger Things" logo, for instance, or a 21st century update of the Gadsden flag reading "DON'T TREAD, BRUH."
   "It's free!" he beamed. "They're so well-equipped with resources, because they really want to educate people on conservative views."
   Obviously, left-wing students on campus do not have such a sunny opinion of Turning Point. In his statement provided to Vanguard, Calzadilla-Palacio denounced TP as a "racist and anti-immigrant extremist organization that pushes dangerously hateful sentiments against minorities on campuses."
   "I've met people who just hate Turning Point!" Cozlov exclaimed. "At least two to three times a week, I meet people who genuinely hate Turning Point, who genuinely hate the ideas. I've had someone say my table's fascist, I've had someone say 'eff off.' I've met all sorts of people. But overall it's mostly just people who disagree and want to have a conversation."
   Other conservative students on campus are generally supportive of the group.
   "I like Turning Point as a national organization a lot," Guillemain said. "I actually met [Turning Point founder] Charlie Kirk at a gala last year."
   While she acknowledges Cozlov has cleaned up his act since last semester, she's still waiting to see whether the responsibilities of running a Turning Point chapter will rein him in.
   "I know that Christian's views may or may not line up with Turning Point's mission, but I trust that he'll be able to listen to the authority and learn that their view is what he needs to adopt," Guillemain said. "I just don't want to scar their image on campus. I would like for them to have a good image, with or without him."
   For Zach Nomer, Turning Point doesn't have a good image to scar.
   "While I support free speech, I don't support some of the values of the TPUSA official stance," Nomer said. "They've had issues in the past with saying racist shit. They support 'traditional marriage,' whatever the fuck that means. They also wouldn't shut up about the gay couple where the baker didn't want to bake them a cake because of their religious beliefs. I'm of the belief that sexual orientation is a protected status under federal law, so I think that's like saying 'I won't make you a cake because you're black.'"
   Nomer's dislike of Turning Point is part of a wider disillusionment with Republican ideology. He now counts himself among the ranks of the self-proclaimed "Yang Gang" – the 3% of Democratic voters putting their support behind entrepreneur Andrew Yang.
   But like many former members of BCYR, Nomer has left the club to pursue other ventures. In his case, it's his fraternity, Alpha Epsilon Pi. BCYR's former treasurer Abraham Friedman left the club to assume control of the Accounting Society. (Friedman declined our request for an interview, saying that he wishes to keep his presidency in the Accounting Society politically neutral.) And Guillemain herself is an active participant in many campus clubs, including serving as editor-in-chief of the student publication Night Call.
   With all the departures from its ranks, it's easy to forget that BCYR are still a force on campus, especially with Turning Point now jostling for space on campus. But Alex Tlatelpa doesn't see it that way.
   "I can appreciate that another conservative club is on campus and offering that kind of option," Tlatelpa said. "I think there's a very big distinction between both of us, Turning Point being a lot more activist, a lot more centered around awareness."
   After Nomer left the club, Guillemain appointed Tlatelpa as the Young Republicans' president for the fall semester. He acknowledges that after the past year of controversies, it can be difficult to get students to accept BCYR's presence on campus.
   "The Langbert thing makes reaching out [to other clubs] hard," Tlatelpa admitted. "I understand why it might be difficult for other clubs and other students to feel comfortable with a conservative club on campus given that track record."
   He stresses that his objective for BCYR is not to promote Republican ideology, but rather, to promote tolerance and understanding across political lines.    Tlatelpa is soft-spoken and a little self-conscious – a far cry from the brashness of a Ben Shapiro or Steven Crowder. He's more a fan of the late John McCain. ("He was everything a Republican should be," Tlatelpa opined.) 
   "Before Trump, and probably up until George Bush, we still had 'compassionate conservatism,' and that's where most of my beliefs align," Tlatelpa explains. "Republicans have always had a strong stance on the rule of law, but they also understood what immigrants provided to America, and offered solutions and were open to working with Democrats on immigration reform."
   Listening to Tlatelpa talk, it's hard not to view his even temperament and emphasis on understanding as a throwback to a Republican party that no longer exists. But that doesn't bother him.
   "Where I initially wanted to start was […] trying to re-establish ourselves not so much as activists for a conservative culture or for conservative ideas, but as a learning group, where we can share our own ideas, our own take," Tlatelpa explained. "When you speak to a lot of people, they have a sense that me and you having a conversation about politics is about someone winning. It's something that's on the top of my mind when I think about the Young Republicans."
   "Hopefully, I can get a chance to at least get my foot in the door with the rest of the school."