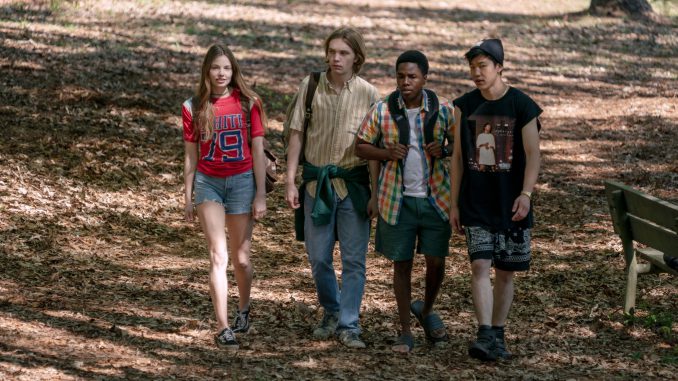 Hulu is coming out with an eight-part TV series called "Looking for Alaska" based on the John Green book of the same name.  In anticipation of that, I thought I would read the source material.
   During the summer, I read John Green's latest book "Turtles All The Way Down," which quite honestly blew me away with its sensitivity and insight towards mental health issues. 
   "Looking For Alaska" is the second John Green book I have read and it is the first book that he ever wrote. He states in other material that he was offered a movie deal that gave him the money to move to New York with his then-girlfriend and continue to write. Nothing ever happened to make "Alaska" into a movie until a film adaptation of his book, "The Fault in Our Stars," became a hit at the box office.
   These books are in the young adult (YA) section and while I thought Turtles transcended the genre, "Looking for Alaska" certainly falls right square into the ethos.
   Just to get your attention, this book has been banned in some schools and libraries for its intentionally non-titillating descriptions of oral sex, which the author says, are supposed to be in contrast with the meaningful dry humping, groping, and good old making out elsewhere in the book. 
   It's hard not to feel a little manipulated by the obvious tropes of a young adult novel set in high school. Everyone knows how it feels to start a new school, make new friends, and be both excited and scared of being away from home for the first time.  Many of the experiences cited at the beginning of the book are poignant for the main character but can get tired for the reader, after all, it's mostly a collection of first experiences. 
   At first, the novel is mainly plot-driven, but shifts to a wholly character-driven story. The story begins with Miles, the protagonist, moving to a boarding school in Alabama and obtaining a group of friends. The main ones, including Miles, the Colonel, Alaska, and Takumi are insightfully fleshed out; Green makes you feel like you know them personally. One can guess that Miles may be a stand-in for Green. And, while he denies that the book is autobiographical as most first novels are, and most writers write what they know, the reader senses their similarity.   
   Miles falls for Alaska Young, who I love as a character. I believe that plenty of guys meet and fall in love with this type of girl at least once in their lives. Their dynamic is a relatable one: some nerdy introverted guy meets a beautiful emotionally unstable girl who for some reason flirts with him enough to make him feel special, but remains physically and emotionally unavailable to him. And of course, she has a boyfriend. This tension is both energizing and vexing to a mind that might not be able to handle such a dilemma. I hope I am not giving too much away here, and it's obvious in the trailer for the TV show, but Alaska dies. 
   What Green does well is flesh out Miles and Alaska as people. Alaska is not a Manic Pixie Dream Girl; instead she is a fleshed out character who is who she is for reasons of life experience. Miles, too, has thoughts and feelings of both loss and grief after Alaska dies, but his idealized image of Alaska matures too, albeit with help from his friends. His very cool friends, who happen to be as supportive as any TV friends (e.g. The Big Bang Theory and Friends), though I can't be certain that the Hulu show will be able to get the subtleties and insights that make this book worth reading. 
   An Alabama prep school seems a long way off from Flatbush. The book's depiction of the high school experience didn't match mine whatsoever. Still, I was sad when the book ended. I wanted to spend more time with the characters. I think that says something. Now, I just have to find someone with a Hulu account.