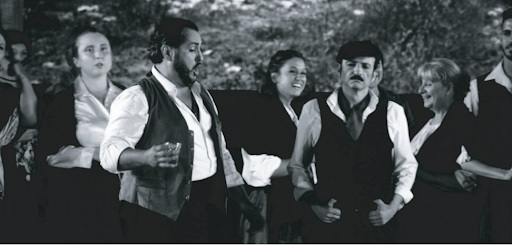 In the spirit of Italian Heritage Month, Brooklyn College's Sebastian Giordano has helped the Pietro Mascagni Foundation (all the way from Sicily!) to perform Cavalleria Rusticana at Hunter College's Danny Kaye Playhouse on Sunday, Oct. 13 at 3 p.m. 
   The famous one-act opera, directed by Guia Farinelli Mascagni, will be accompanied by the Città Di Castellammare del Golfo Wind Orchestra, and will also be performed in Boston, Toronto, and Montreal. The cast is led by tenor Alberto Profeta, sopranos Valentina Miserendino and Natasa Katài, mezzo-soprano Marisa Rainieri, and baritone Salvo di Salvo.
   "To be able to have my town in Sicily being represented in New York City is a blessing and gift that I will always cherish."
   Says Giordano, who is currently working on a Master of Science degree here at BC, says that he and his father, Anthony Giordano, have been planning this event since 2018 when they saw the orchestra perform at the Christopher Columbus Parade that year. With help from the Federation of Italian-American Organizations of Brooklyn (FIAO), the father and son duo managed to successful import the opera to the states.
   "The Mascagni foundation bringing this show to New York shows that we as Italian-Americans are able to share the beauty of our culture with the rest of the world in one of the biggest and most diverse cities in the world," said Giordano. "This type of opportunity makes me proud that I am of Italian heritage."
   In 1889, as the story goes, Pietro Mascagni submitted Cavalleria Rusticana to a competition for young composers. Having heard about the competition only two months prior to the deadline, Mascagni entrusted his friends, Giovanni Targioni-Tozzetti and Guido Menasci, to write the libretto, which is based off of a short story of the same name. Out of seventy three submitted, Mascagni's opera, as well as three others', was chosen to be performed in 1890 at the Teatro Costanzi in Rome. Since then, the show has been performed countless times and is now a mainstay in the canon of Italian opera.
   Cavalleria Rusticana is a verismo (realist) classic. The young Turrido (Profeta) arrives home after a stint in the military to see that his lover, Lola (Miserendino), to his surprise, has married Alfio (di Salvo). In his anger and jealousy, Turrido seduces Santuzza (Katài) and (this is where the drama really begins) Lola begins an affair with her once-lover, Turrido, also out of jealousy.
   If you'd like to know how the story unfolds, (hint: blood will be spilled), you'd better get tickets to the show, which can be purchased online on the Danny Kaye Playhouse website or in person at the box office.