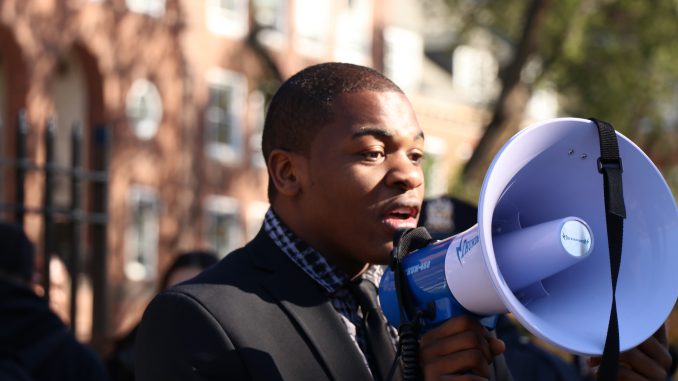 The downpour of snow did not stop CUNY students, faculty, and alumni from attending a Town Hall where they were given the opportunity to express their grievances with their CUNY experience to NYS Senators Julia Salazar and Andrew Gounardes. Hosted by the CUNY Rising Alliance, the Dec. 2 Town Hall was held in Brooklyn College's Boylan Hall with approximately 50 students in attendance from various CUNY institutions.   
  The meeting began with an introduction from Jamell Henderson, who is currently serving as the coordinator of CUNY Rising Alliance, Henderson expressed his enthusiasm for the event and gratitude for the Senators and students for coming out in support of CUNY.
   Following was the Chairperson of USS and City Tech student, Timothy Hunter. He began with a call for action asking students to be active on social media about the issues, involved on campus, and informed about local elected officials. 
  Mental health was one of the main concerns voiced by students. "There isn't a lack of passion, there is a lack of funding," said Natalie Segev, Vice Chair of Senior Colleges USS at John Jay College. She shared her experience with peers of being put on a wait list, that mean a month or more before you can meet with counselors. Also expressing concerns with mental health and CUNY was Musarrat Lamia, student body President at John Jay College. Lamia shared that she was "battling with extreme anxiety and depression," when beginning college and went to the counseling services provided by John Jay. She continued to share that she still has access to the services but is aware that many other students aren't as fortunate. 
  Abe Richards, a student from York College, expressed his gratitude for his college and described the environment as "empowering, fostering, and valuable." However, he noted that many of his peers wouldn't be able to share the same sentiments. "A rodent infestation and other sanitary violations in the cafeteria forced the immediate closing by the Department of Health and not the College." Richards was adamant about his belief that York College is more than building rather, "a symbol of a community realizing its intellectual and human potential as individuals and global citizens." 
   "Keep in mind the difference between the accessibility of higher education and the quality of higher education," said Ethan Milich one of BC's USS delegates. He believes that there is a necessity in understanding the difference between the two, so effective courses of action can be taken for both causes. He summarized the wants of students with three asks: "stop tuition hikes, close the TAP Gap, and provide a free CUNY." 
  On the other side of the conversation were the two Senators who positioned themselves as allies of CUNY. Senator Gounardes emphasized that he wouldn't be here without CUNY. Attending Hunter College provided him the opportunity to graduate debt free and obtain his first job in local government by working for a local councilman. He credits his career in public service to CUNY and jokingly referenced his parents meeting at a Brooklyn College Greek club, further emphasizing the fact that he literally wouldn't be here without CUNY.
   Senator Gounardes urged students to understand that procedural politics are important and where the fight need to takes place: "CUNY is a necessity, not a luxury." He also encouraged them to go public with their concerns and demands, illuminating the fact that it is a joint fight. 
   Senator Salazar expressed that she believes students deserve a well-rounded education and understands the difficulty in balancing the realities of life and an academic career. She shared that while she was a student she was also working as a nanny and cleaned apartments part-time. Her need to work limited her ability to explore other opportunities like unpaid internships. She encouraged students to continue to share their stories: "it is one of the main reasons why we do what we do."
   Although issues brought to discussion did not receive immediate solutions, it was made clear that both Senators will be bringing these issues with them back to Albany.