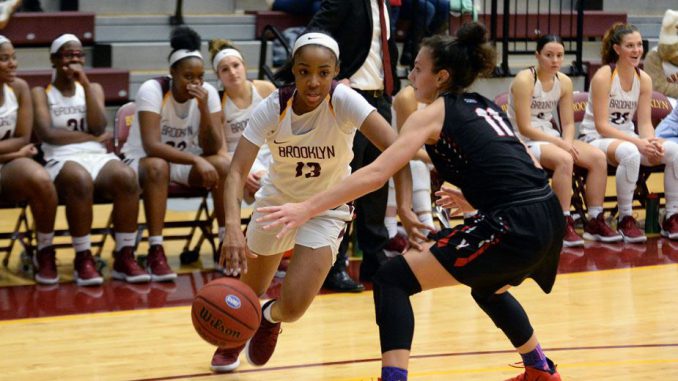 Brooklyn College women's basketball team is looking to regain its footing after two straight losses on the road. 
   After starting the season 3-0, the Bulldogs dropped their next two games to St. Joseph's College and Kean University. 
   Four of the Bulldogs' first five games came on the road, including wins against Alvernia University, Adrian College, and a 33-point blowout win against Rosemont College in the season opener. None of these games have been in-conference.
   "We got off to a hot start by playing solid defense and having different players step up for us each game,"  said Alex Lang, head coach of the women's basketball team who sees a lot of promise with this group. 
   As far as the past two losses, "The last two losses were tough and we need to just put those behind us and move forward," he said.  
   Fortunately, four of the next five games for the Bulldogs are at home, including Tuesday night's homecoming game versus York College, their first conference match-up. 
   Through five games of the season, the Bulldogs have outscored their opponents by 6.9 points per game, and have a field goal percentage of .403, while their opponents' have shot .372. 
   The Bulldogs are also shooting very well from the 3-point line, taking 8.8 3-pointers per game on .370 percent shooting compared to their opponents taking 5.4 3-pointers per game on .297 shooting. Junior Taylor George has already made 12 three-pointers on the season, and is averaging 15.8 points per season. Junior Chanel Jemmott is leading the Bulldogs averaging 20.4 points per game.
   "We are a good shooting team and have the ability to score a lot from 3-point range," said Lang. "We haven't done anything special to do this, aside from having some good shooters and looking to make extra passes and share the ball." 
   Lang did note how there are many key areas the team can improve on this season, most specifically rebounding. 
   Though the team can certainly improve, they are out-rebounding their opponents by 2.2 per game this season.
   CUNYAC games are especially important for playoff-seeding, and the Bulldogs want to get back on the right track with a win Tuesday night. The team has a lot of promise, and if they can continue on their strengths and improve on their weaknesses, this season looks to be a very bright one.