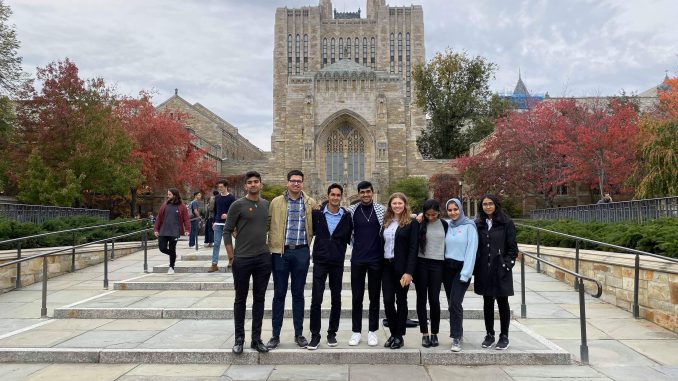 The Speech and Debate Team at Brooklyn College has produced some of their best results ever this semester, and this winter they'll have a chance to show their skills to the world. They will be competing at the 2020 World University Debating Championships, which will be held from Dec. 27 to Jan. 4 next year in Bangkok, Thailand. 
"We have been on a roll this semester like we haven't been in for the time I have been a part of the team," said team president Lakshay Khosla, a senior majoring in Chemistry. "Usually, I help bring awards for the team along with some older members that have graduated."
   "We are seeing other members, even the novices of the team perform better than they have in the past," Khosla added. "Every member that went to the competition won an award in the category they competed in. The most notable winner was our speech captain Annalissa Thomas for ranking 3rd place in informative speaking and 5th place in Poetry," said Khosla.
   BC's team performed well at both of two debate competitions: Yale IV at Yale University and Huber Debates at the University of Vermont.
   "The most notable team was the team of me and Zain Qureshi for ranking at the top amongst the teams Brooklyn College sent," Khosla said. "More notably, I ranked amongst the top 25 speakers at Vermont, which was the first time in Brooklyn College history that anyone has ranked so high in British Parliamentary debate," added Khosla.
   So how does the British Parliamentary debate system work?
   "There are 4 teams in a debate round, each team consisting of 2 members. Each 2-member team is randomly assigned the role of Opening Government, Opening Opposition, Closing Government, or Closing Opposition. The government side supports the resolution and the opposing side opposes it. The debate itself consists of a seven-minute speech by each person [filled with questions asked by others] and at the end, the judge working with a panel ranks each team a position from 1-4," Khosla said. 
   "For every debate round, you are given a new topic (or resolution) about some current world issues, ranging from politics, international policy, economics, philosophy, ethics, psychology, and a variety of disciplines. You get 15 minutes to prepare your stance on the topic and the debate round begins," he added.
   Since Khosla was part of the debate team at his high school, the Bronx High School of Science, which was ranked amongst the top teams in the nation, he was instantly interested in joining the team at BC.
   "I also heard that the team was filled with a history of performing well at speech tournaments and had a personal desire to make a name for Brooklyn College in debate," Khosla added. "Since I have joined the team, I have partnered with different members at British Parliamentary debate competitions and every single time, no matter who my partner was, the two-member team I am a part of has ranked at the top amongst the teams Brooklyn College sends to competitions."
   Two: "I wanted to set up a strong future for the team by guiding and training new members to learn the art of speech and debate. I was the Debate Captain in Fall 2018-Spring 2019 and was ready to take on the President role in order to ensure we actively develop new members, run tournaments smoothly, and make a name for Brooklyn College."
   His teammates are equally capable. Trevor Colliton was the coach of the team whose focus was on teaching debate this semester, and he judged practice sessions on Monday evenings. Sonali Bhat, the team's Vice President, judged practice sessions on Thursdays during common hours. Speech Captain Annalissa Thomas helped new members develop speech event-related skills.
   Senior Hamza Khilji, a Business Administration major, is the team treasurer. He had no prior experience in speech and debate before coming to BC — he wanted to join in high school but developed an interest too late. He also "wanted the competitive team aspect, and to be a competent public speaker." 
   Having served as treasurer of the team for two years now, Khilji said his "motivation for the position came from being a business major. Keeping track of our fiscal spending and budgetary needs was an experience I wanted to have under my belt."
   "Debate has defined my college experience and my growth. It shapes how I think about the world, people, and everyday news," he added. "It's also given me an avenue to voice my own concerns and have confident public speaking skills."
   Although he decided not to attend the Worlds tournament in Thailand, Khilji did say that "the trip is a pinnacle of every debater's career, and all [the team's] debate tournaments are a prep for Worlds."
   "In the past, no e-board ever wanted to do World's due to costs and weird timelines, so the fact that we did is quite historic. It is a chance to face off against the best debaters in the world and meet a community of intelligent, driven, and outspoken individuals," added Khilji.
   "[I'm] extremely happy and humbled to hear that our hard work has paid off and we will get to compete at the highest level of British Parliamentary debate," said Lakshay Khosla. He and Zain Qureshi will be representing BC at Worlds. "This is the first time in the history that Brooklyn College has got the chance to debate at the Worlds competition." 
   "While being happy for this opportunity, I also knew that we need to put in 105% of our effort to make sure Brooklyn College ranks highly at this tournament," Khosla said. "This tournament is highly competitive and very strenuous as it will have nine rounds of debate." (Most debates only have five to six.)
   Khosla says that both himself and Qureshi "will look to lead Brooklyn College at Worlds and hopefully bring back some good news!"