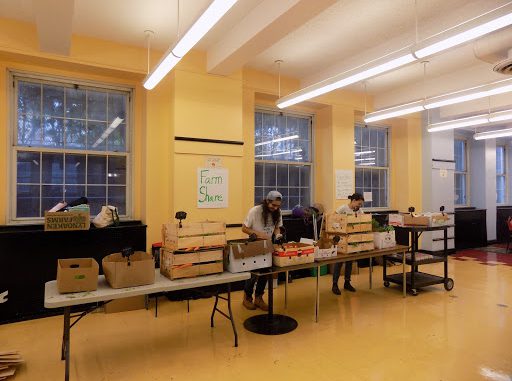 Corbin Hill's Farm Share program at Brooklyn College offers CUNY students, faculty, and workers healthy produce options on the go via its single-day pick-up service.  
   Since spring 2018, the weekly subscription-based program has held an active presence on the BC campus. Located in Ingersoll Hall, the program provides produce for low-income areas and boasts well over a hundred subscribers from the campus, thanks in part to its partnership with the BC Agricultural Center.
   "For [at least] 15 dollars a week, we get a bunch of produce from upstate distributed to Brooklyn College," explained Angelica Rodriguez, an Urban Sustainability major and volunteer for Farm Share at BC. 
   By signing up through the website for the Brooklyn College drop-off location for the Corbin Hill Food Project, users are offered a choice between paying between $15 and $28 a week for various bundles of fresh produce. Additional locally-produced add-ons such as eggs, bulk flour, or even raw honey are offered to "shareholders" in the program.
   Beyond the combination of accessibility and healthy produce, there's an altruistic purpose behind the program: the need to remedy the encroaching problem of "food deserts" appearing in places like New York City.
   According to the USDA, "food deserts are defined as parts of the country vapid of fresh fruit, vegetables, and other healthy whole foods, usually found in impoverished areas. This is largely due to a lack of grocery stores, farmers' markets, and healthy food providers."
   Thus a vacuum has been left for major food distributors like Corbin Hill to fulfill with their own program, seeking to address "the needs of low-income communities through our affordable prices and flexibility with sign-up and payment options," as their website puts it.
   The result is Farm Share, noted for its locations, prices and going as far accepting the now obscure Health Bucks as valid payment.
   According to Urban Sustainability major Ian Evans, a volunteer with the program, the program's aim to mitigate the effects of food deserts is part of a wider effort by faculty members of various BC centers and services to introduce students to healthier diet options.
    These include the Office of Environmental Health and Safety, the Department of Health and Nutrition Sciences, and the Sustainability Council.
"We need to have more sustainable food systems that will give food to everybody," said Evans. "Especially on Brooklyn College: a very diverse campus, and with people coming across the city, you may not necessarily have time to go to the store and pick stuff up."
   Evans insists that the aims of Farm Share are altruism and convenience. 
   At present, studies like one from the Food Bank For New York City indicate that the status of "food insecure" persons in the city includes nearly 1.3 million NYC residents are deemed "food insecure." That is, around 1.3 million people at some point have unexpectedly gone hungry without access to a reliable food source, typically due to economic conditions.
   With the success and growth of Farm Share programs throughout the country like the one at Brooklyn College, interest in the business does not appear to be dwindling anytime soon.
   "Corbin Hill has been helpful against food deserts because their programs are in areas where food deserts exist," said BC Farm Share Sustainability Coordinator Julissa Lora. "They establish themselves in areas where they are needed."
   "It's a bright spot on campus, and it's the favorite time of the week for many of us to meet people we don't usually work with," said Carrie Sadovnik, chair of the BC Sustainability Council.