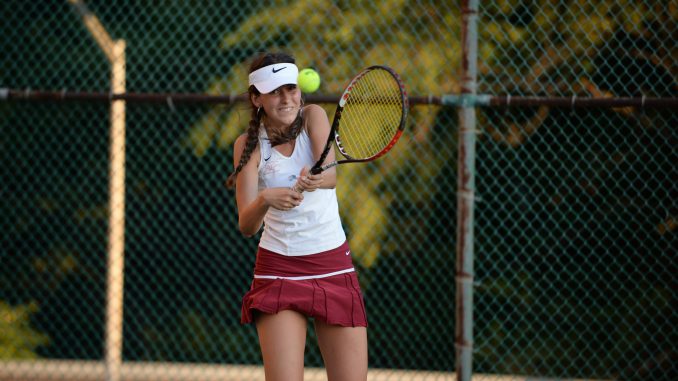 Brooklyn College Women's Tennis won their first match of the season 5-4 Saturday, September 21, against Sarah Lawrence College. In a tightly contested affair, the Bulldogs emerged victorious and now sit at 1-4.
Brooklyn dominated their first and second singles matches, with star players Tamila Latif-Zade and Clara Bosch Mas both winning their matches without losing game.
Brooklyn lost their third, fifth, and sixth singles, while also dropping first doubles, but won second doubles 8-3, and third doubles 8-5. Junior Dora Batinovic won the deciding victory at number four singles, securing Brooklyn the overall win.
Head Coach David Wallis, who is also the Brooklyn College Men's Tennis coach but in the Spring, preached to his players at the start of the season how learning and getting better would eventually lead to wins, even if it did not seem like it right away.
"[I] just want the new players to learn the basic techniques and build upon that each week, rather than worry about wins and losses. If they improve from match to match, then we are making progress," he said.
It can be difficult for a young team to stay positive after a bunch of early losses. Putting a lot of work in and not seeing definitive results can be discouraging in any sport or practice. It is a testament to Wallis and his players that they were able to be just as mentally tough as they were physically, and come out of the match against Sarah Lawrence victorious.
When asked about how his team took the early losses, Wallis responded, "They realize many of the teams we played so far were much more experienced, so they were not too upset with the losses. We worked on improving our strategy in doubles matches so we could defeat even somewhat more experienced teams by utilizing different tactics."
In tennis matches at this level, there are six singles players who face off and three doubles pairings. Whichever team wins five of the nine individual matches wins.
With regard to strategy during matches, Wallis continued, "Our goal was to beat the teams with whom we are more competitive. Over time, the players come to realize that they can occasionally beat more experienced teams by out-thinking them during the match – utilizing different formations in doubles and hitting to the opponent's weakness."
Doubles is a very different game than singles, but it all leads to the same goal: a team win. Doubles take cohesion and chemistry between players and singles take  determination and diligence, knowing that you are all alone out there.
The Bulldogs have a long way to go if they want to see postseason action this year. However, they are moving in the right direction and making the progress Wallis wants to see as the season progresses.
"Players realize that improved techniques and strategy can win them some matches. But at the same time realize that the far more experienced teams will still be a problem for us at this point. But we just have to keep improving and train and then challenge those teams in the future," Wallis concluded.