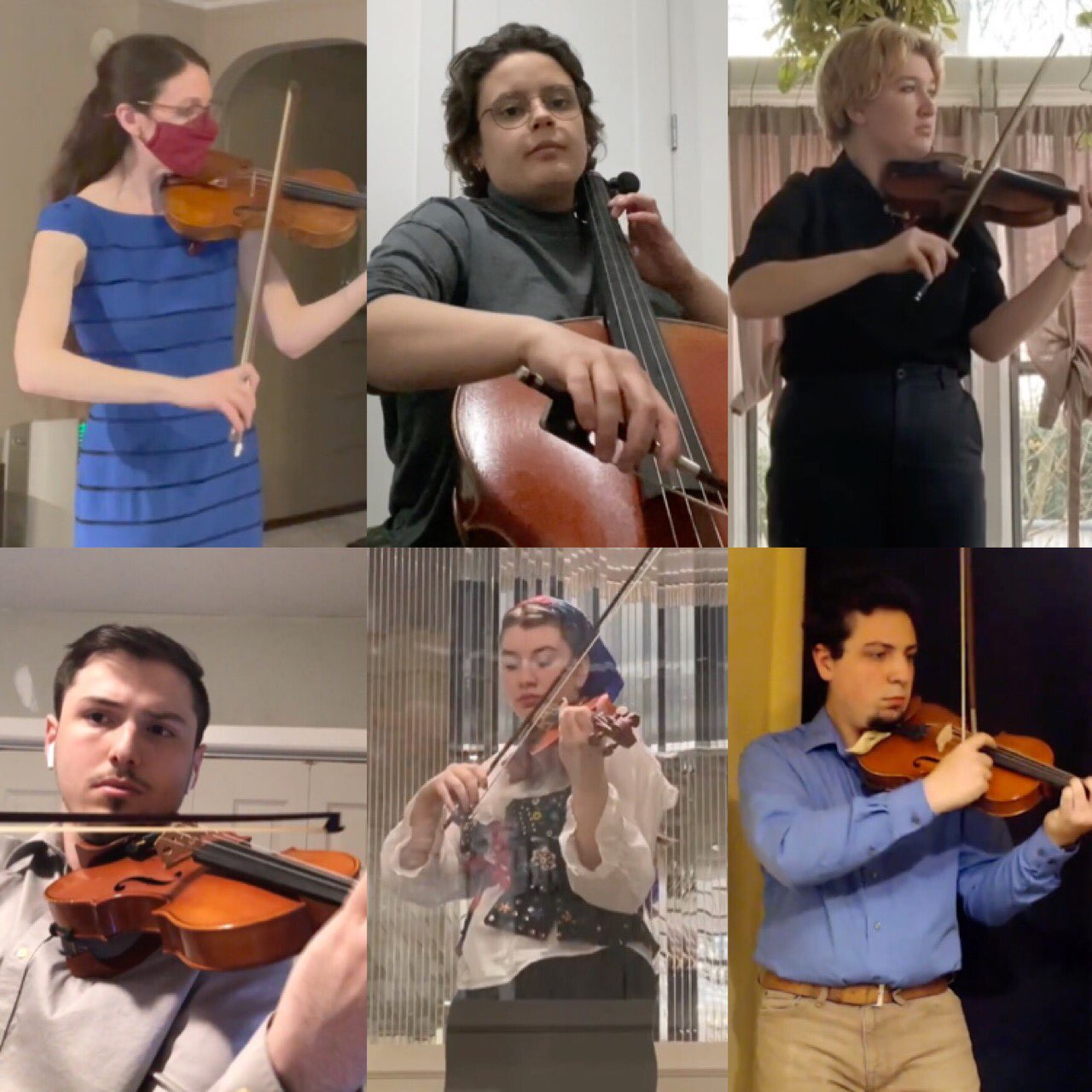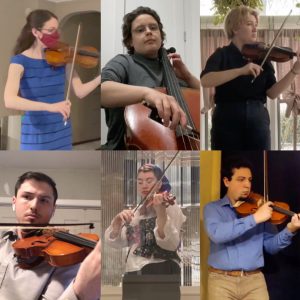 The Conservatory of Music at Brooklyn College hosted "Music for Strings," an online concert performed each semester where Conservatory students performed a variety of chamber works for string instruments. This time, however, was different. 
For this semester's concert, held on Apr. 21, the theme was "Artistic Connections," with each performer connecting their performances to a specific work of art.
The concert featured six performers with five returnees and one new performer. Corinne Bennett, Kaylin Romero, Izzy Bruschi, William Swinick, and Samer Chiaviello performed in the strings concert last fall, and Lila Bruschi joined the pack this time around.
Corinne Bennett, a second-year Master's student at Brooklyn College, began the concert with a violin performance of Camille Saint-Saëns's "Introduction and Rondo Capriccioso, op. 28" and paired it with "The Arch of Titus in the Fanciful Setting," a drawing by Caneletto. 
"It depicts [an] arch covered in weeds and in a dilapidated state with a small cottage built next to it and a man in a boat passing by, ignoring the monuments behind him," explained Bennett. "I find that this work evokes feelings of whimsy and also of melancholy, and I think both of those elements can be found in Saint-Saëns's 'Rondo Capriccioso.'"
Throughout the piece, Bennett utilized shifting dynamics, which made her technique evident. With her hands constantly moving and varying speeds in the music, she was able to establish tension within the piece while still maintaining the melancholic theme. 
Bennett was supported on the piano by Eri Kang, the Conservatory's staff accompanist, and as the piece continued, both the violin and piano remained consistent with the exception of transitions from movement to movement where the violin halted, allowing the piano to continue with a solo that'd keep the music flowing until the piece ended.
This brought the concert to its next performer, Kaylin Romero, a violoncellist who performed the first movement from György Ligeti's "Sonata for Cello Solo" and paired it with "The Kiss," an oil painting by Gustav Klimt.
"This piece…was inspired by [Ligeti's] budding love for a fellow student in his class. There are multiple voices in [the piece] played by a single cello…and these sort of represent the internal dialogue between Ligeti and his crush," said Romero. "I've chosen Gustav Klimt's "The Kiss" to sort of highlight that fantastical love and…interaction between lovers even if it's not real."
Similar to Bennett, Romero utilized a range of dynamics, but maintained a careful and melancholic tone. As the piece progressed, however, it grew more complicated, incorporating sharper movements and techniques that made it seem as if Romero was improvising, and this is what brought the piece's voices to life.
The concert continued with Izzy Bruschi, a violinist who performed Niccolò Paganini's "Caprice No. 16 for Solo Violin" and connected the piece to "The Devil's Workshop," a poem by Yusef Komunyakaa. 
"The ferocity with which [Paganini] played coupled with his elongated fingers and extraordinary flexibility gave him a mysterious and almost mythical reputation," said Bruschi. "He was rumored to have made a deal with the devil to achieve the heights of his virtualistic performances."
Similar to Paganini, Bruschi played ferociously at a high volume and fast pace. With quick movements, Bruschi remained stone-faced and utilized repetition to establish a consistent theme throughout the piece.
Following Bruschi, William Swinick took the spotlight to perform Pyotr Ilyich Tchaikovsky's "Sérénade mélancolique, op. 26," a piece with shifting moods. To complement this structure, Swinick connected this piece to "The Oxbow," a painting by Thomas Cole.
"There's a somewhat dark and gloomy side and a lighter and more luscious looking side to this beautiful landscape," Swinick said of the painting. "This is quite reflective of the color and mood contrasts that are in this piece."
For the most part, the piece was melancholic as Swinick played the violin slowly and steadily at a low volume. As Swinick sped up, however, the piece became a whole lot brighter. The piece eventually shifted back to a gloomier tone, and it was these shifts that made the piece's connection to Cole's painting especially evident.
Perhaps, the most unique performances, however, came towards the end with Lila Bruschi and Samer Chiavello, both of whom decided not to connect specific works of art to their performances.
Instead, Bruschi, who performed three of Béla Bartók's "Romanian Folk Dances," decided to dance along to each piece she played in a separate video that overlapped her musical performances.
Despite the shifting dynamics of the music from piece to piece, Bruschi's dancing remained consistent with dramatic, interpretative movements that accompanied both the harsher and lower sounds, as well as the cleaner and higher ones within the piece.
As for Chiaviello, who performed Eugène Ysaÿe's "Sonata No. 2 in A minor," he connected his performance to "the Ship of Theseus," a thought experiment that deals with the metaphysics of identity and questions if the ship is still the true ship even if it has been replaced with new planks.
In relation to Ysaÿe's Sonata, Chiaviello challenged the audience to listen for the theme of the "Dies irae" or the Latin hymn for the dead within his performance and determine for themselves if it is the same theme throughout or something completely different due to its variations.
"You'll hear an opening theme, and you'll kind of hear the 'Dies irae' in there, but as you hear the other variations, try to see if you can spot that theme in other places, and you will," said Chiaviello. "Ysaÿe makes it very blatant in the piece, but he also kind of hides it too."
Chiaviello began the piece by playing the violin with his fingers before eventually switching to the bow for a cleaner sound. While relatively short, the piece gradually built on the theme from variation to variation. 
On the last variation, however, the notes were played forte, and the theme was repeated once more to bring both the piece and the concert to a satisfying conclusion.