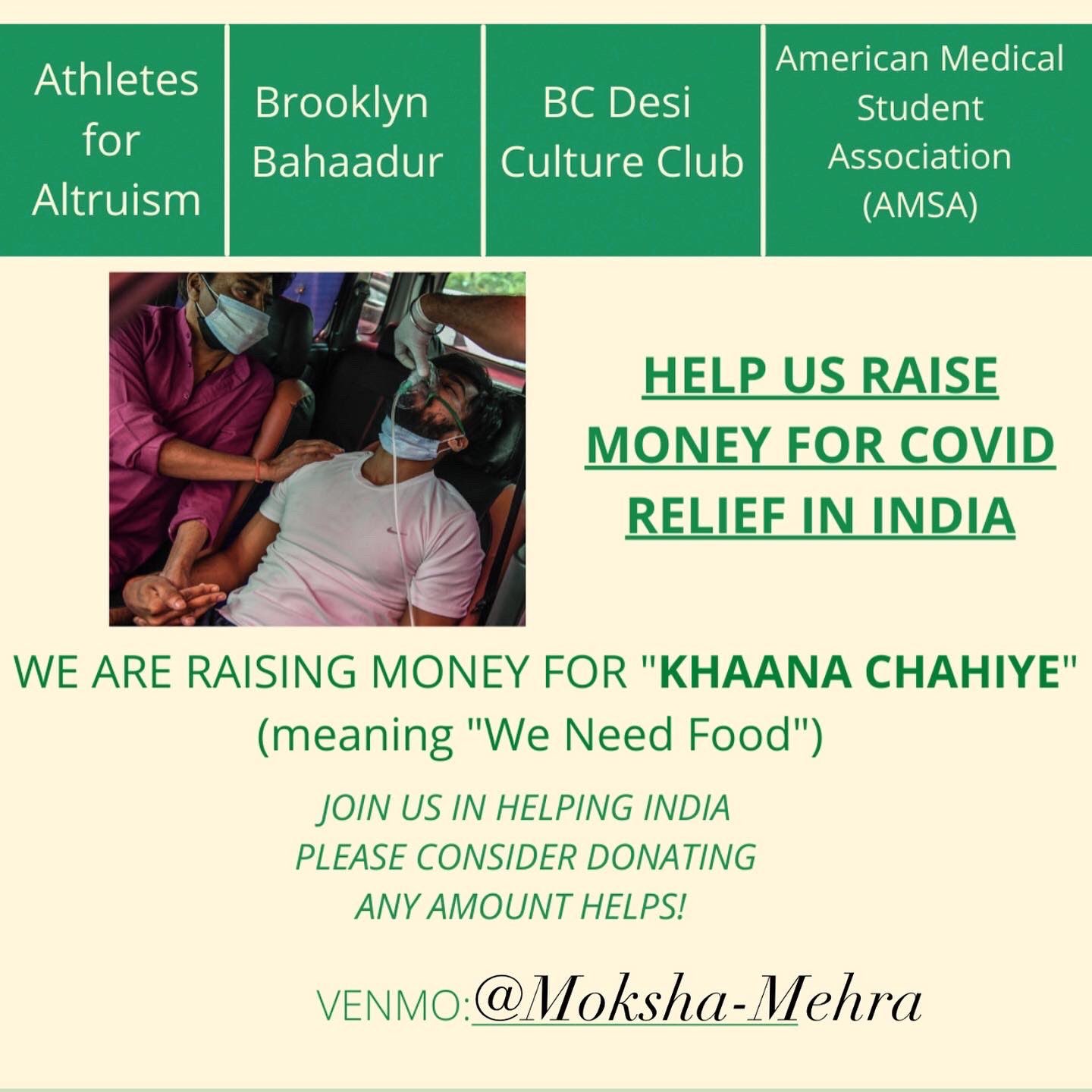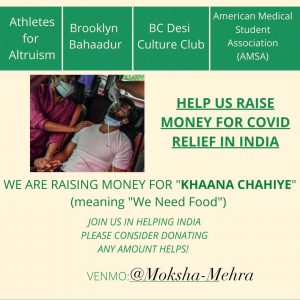 Several clubs at Brooklyn College are raising money to assist COVID-19 relief in India, including Athletes for Altruism, Brooklyn Bahaadur, BC Desi Culture Club, and American Medical Student Association. 
The virus and its variants are running increasingly rampant in India right now, with an estimated 19.9 million cases in the country as of May 3, according to Johns Hopkins University data.
Moksha Mehra, a student at Brooklyn College, is organizing the fundraiser, channeling funds into a nonprofit organization in India called Khaana Chahiye, which translates to "We Need Food." The money is to ensure that residents of India can stay safe at home and eat instead of risking their lives working outside.
"As a first-generation Indian American myself, I have a lot of family back home in India to whom I speak to very often," said Mehra. 
She explained how she watched the situation get worse and worse in the country, and the palpable fear heightened in her parents. She sought out a way to make a difference.
"One of the biggest things, living internationally, is that people feel that they cannot help because they are not physically there to do anything about the situation," Mehra added. "Oftentimes, people do not know which websites they can trust to donate money to and whether or not that money will even reach the organization, or if it will be put to good use."
Mehra explained that once she brought the fundraising idea to her peers, they were extremely supportive, which made her more excited to continue her efforts. 
In the five days that the fundraiser has been up and running, the four clubs have helped raise $784.02 for Khaana Chahiye. 
"The donations and responses that I received were truly overwhelming," said Mehra. "Students from Brooklyn College, other CUNY schools, family, friends, and communities of Brooklyn College students were donating and expressing their empathy towards India, which left me in awe of my fellow peers and community members."
Mehra hopes that students and kids her age realize that even though they are young adults and live across the world from issues in other countries, there is always much more to do than they initially think. 
"Coming together and working as [a] team with all these different clubs made me realize that everyone wants to help. It's just that sometimes we don't know where to begin," said Mehra. "One of my favorite things about Brooklyn College is not only the diversity of students but the cultural competence every student possesses. The ability to put differences aside and come together for a good cause is the root of fundraisers like these."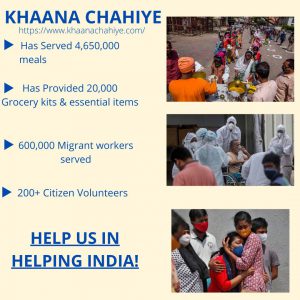 Brooklyn College and CUNY members began calling attention to this fundraiser, with Mehra leading the way, and they plan to continue doing so. Mehra is thankful for everyone who has donated and brought attention to the fundraiser to help out the people afflicted in India.

"I definitely believe that these altruistic and humane efforts can be spread all over Brooklyn because over the past two years, we all have seen the importance of being there for one another and having others to lean on…these lessons will manifest in our lives," Mehra said.