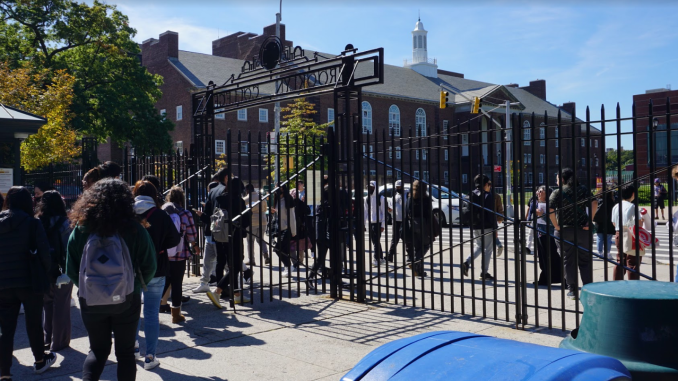 By Gabriela Flores
   CUNY partnered with Campus Climate Initiative, a program led by Hillel International, to address the nationwide rise of antisemitic incidents. Seven campuses, including Brooklyn College, aim to improve campus experiences for Jewish students, raise understanding of antisemitism through training, and formalize reports of incidents, among other plans.
    "Through Hillel International's Campus Climate Initiative (CCI), the Tanger Hillel looks forward to working closely with the Brooklyn College and CUNY administration to ensure a positive campus climate where Jewish students feel comfortable expressing their identity and values, free of antisemitism, harassment, or marginalization," said Yelena Azriyel, assistant director of BC's Tanger Hillel, in a statement to the Vanguard on behalf of her organization.   
    Antisemitic harassment incidents rose by 43% in 2021, according to the Anti-Defamation League, which categorizes harassment as verbal or written attacks with slurs, stereotypes, and antisemitic conspiracy theories against Jewish people or those perceived to be Jewish. In New York, 149 antisemitic incidents were recorded from January to June 2022 by the NYPD. 
   At Brooklyn College, the U.S. Department of Education is currently investigating antisemitic harassment allegations that were reported by two Jewish students in 2021. One of the complaints alleged the college allowed a "hostile environment" for Jewish students. As one of the campuses joining the new CCI partnership, BC aims to address antisemitism and other issues. 
   "Having one of the most diverse student, faculty and staff populations in the country gives Brooklyn College incredible advantages, as does being an anchor institution located in the diverse borough of Brooklyn," Rich Pietras, the college's Media Relations Manager, wrote in a statement to the Vanguard. "These advantages allow the college to lend its expertise and learn along with other prestigious institutions and organizations as we fight antisemitism and other social problems together."
   Six other CUNY campuses were chosen by the CCI to become part of its cohort of 40 campuses to promote understanding and awareness of antisemitism through training and events. CCI intends to "build a coalition to address antisemitism," lead learning sessions, and implement action to better the environment of Jewish students on each campus, according to its official website. 
   "CCI trainings are designed to provide educational opportunities and empower university administrators to better understand the needs of Jewish students, the diversity of the Jewish community, and the challenges students face when it comes to antisemitism on a college campus," stated Azriyel, noting that the training has begun and will continue throughout the year. At Brooklyn College's Tanger Hillel, Jewish students have a supportive environment. If students encounter acts of antisemitism, the organization's leaders help with incident reporting protocols and emotional support. 
    "We are grateful to provide a safe place where they can be proudly Jewish and to be a campus partner which allows us to support the Jewish students," Azriyel stated. 
   Though CCI proposed using the International Holocaust Remembrance Alliance's working definition of antisemitism as an educational tool, CUNY has not adopted the definition after petitions and resolutions in 2021 raised concerns over the protection of pro-Palestine voices and ability to criticize the state of Israel without it being considered antisemitic. 
    CUNY expects to release a central web page for formalizing reporting antisemitic harassment and other campus incidents by this month, a CUNY spokesperson wrote to the Vanguard. Presidents and deans will be required to review the webpage's cases semi-annually to implement policies or procedures if needed. The university also allocated $750,000 from its fiscal year's budget to create events, programs, and training to further address antisemitism and other forms of religious and ethnic bigotry. 
   "We have remained vigilant and unequivocal in our intolerance of antisemitism, yet we know more needs to be done globally and locally to combat antisemitism and bigotry in all forms," CUNY Chancellor Félix V. Matos Rodríguez said in a press release. 
    The partnership is backdropped by several demands for CUNY to act against antisemitic incidents on campuses. Recently the university faced backlash for appointing its Central Office Chief Diversity Officer, Saly Abd Alla, to investigate antisemitic and anti-Zionist allegations from a Kingsborough Community College professor. Abd Alla was formerly the civil rights director of the Council on American-Islamic Relations, which many alleged was a conflict of interest. The Vanguard could not confirm before press time if Abd Alla remains on the investigation. 
   The New York Post has also extensively reported on antisemitism allegations at BC and CUNY. Last week, the Post reported on an implicit bias training that was held on Yom Kippur, a Jewish holy day that was observed from the evening of Tuesday, Oct. 4 to Wednesday, Oct. 5. The publication omitted that BC offers these trainings the first Wednesday of every month, and an additional session was offered the Monday before to accommodate any observing staff and faculty. 
  "In addition to these dates, staff or faculty can request an individual training session," Pietras stated. 
   Through its CCI partnership, Brooklyn College, local Hillels, and CUNY administrators alike hope to raise more awareness of the Jewish student experience and the antisemitism they may face. 
   "We appreciate our strong standing partnership with Brooklyn College and value this work as we work together to address antisemitism," stated Azriyel.