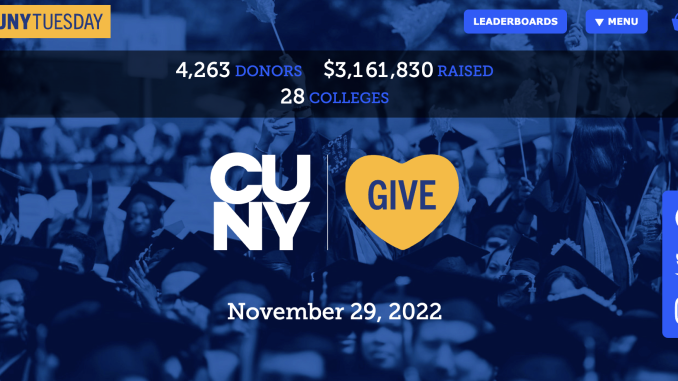 Shlomie Katash
   CUNY's annual version of Giving Tuesday, CUNY Tuesday, was able to raise over three million dollars to support the university's programs and student body on Tuesday, Nov. 29. Brooklyn-based CUNYs Brooklyn College, Kingsborough Community College, and Medgar Evers College, garnered over $266,000 in donations. 
   Giving Tuesday is a global movement where fundraisers are held to help those in need during the first Tuesday after Thanksgiving. A significant portion raised by CUNY for 28 colleges came from alumni who benefited from several programs during their time in college, and gave back to help fund those same programs that aided them in their college careers. 
   "It's about creating a culture of helping others," Natalia Guarin-Klein, director of the Magner Career Center, told The Vanguard. "We go to these alumni who were helped by career programs in Brooklyn College and now have a chance to make sure those who come after them have the same opportunities." The center earned the top fundraising spot for BC this year with $6,740 in donations.
   Another major fundraiser for Brooklyn College, The Women's Center, also stressed the importance of bringing people together on campus for a common, charitable cause.
   "Brooklyn College is made up of many different communities," said Sau-Fong Au, director of The Women's Center. "So, the goal that we have is to increase the funding and also create an opportunity to not only get to know us but to become a part of us."
   The money and contributions for The Women's Center will go toward "support services to students who fell through the cracks," Au explained. Donations will help to continue in-person and virtual resources for students in the Ingersoll-based center, including personal hygiene products, crisis intervention services, mentoring opportunities, access to a computer lounge, and other services. 
   Medgar Evers College, which raised $93,548, noticed a "more than 20% increase in the number of donors over last year," according to Dr. Particia Ramsey, the college's president. 
   "Our focus is on student success; funds raised will benefit students through scholarships and co-curricular opportunities that will help students to reach their goals and broaden their horizons," Ramsey told The Vanguard.
   Creating a culture that helps students can extend beyond the efforts of alumni and monetary donations. Current students with even the smallest amount of experience can help others here at Brooklyn College, even without giving a cent, according to Guarin-Klein. 
   "If you're a student who's maybe had an internship or has benefitted in some way from the Magner Center, get involved," said Guarin-Klein. "Tell other students about your experiences and empower them to help them take early steps toward building their career."
   This past November's fundraising efforts continue a "fourth consecutive year" run where CUNY reached record-high donations, according to Félix V. Matos Rodríguez, Chancellor of CUNY. 
   "It is only through the dedication of our community that we can continue to serve our students and our city at the highest levels possible and make good on our commitment to providing a top-quality education to New Yorkers of all backgrounds, regardless of their circumstances or means," Rodriguez added in a press release.