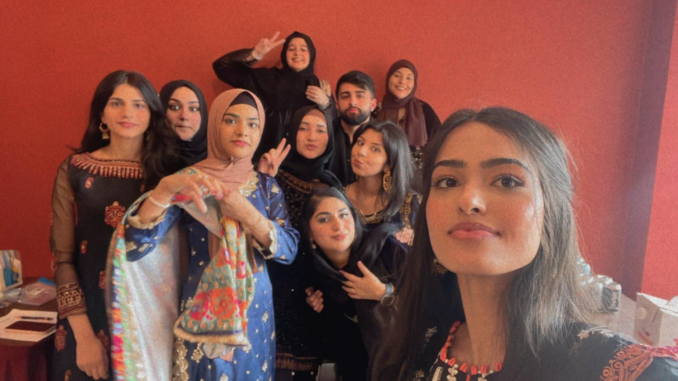 By Haritha Lakshmanan
   The Pakistani Students Association officially became a club for the spring 2023 semester. Founded by Areeb Shahid, a junior and computer science major, the association was made to celebrate and promote Pakistan's culture and history for everyone on campus.
    "I want to introduce Pakistan's unique culture through this association. It seems to many that there are other clubs that may represent Pakistani culture, but there is no Pakistani student association for Pakistani students or other students who want to exclusively learn about Pakistani culture and traditions," Shahid said. 
   Although South Asian cultural associations on campus exist, including the Desi Culture Club and the Bangladesh Student Association, neither specifically highlights the Pakistani students at Brooklyn College. After Shahid's experience on other campuses, he saw the importance of uniting the Pakistani students at BC in order to create a safe space for them as well as to teach them about Pakistani culture, traditions, and even Pakistan's government. 
   All of the current board members have Pakistani origins, with each hoping to teach students of other backgrounds and even Pakistani students who are interested in learning more about their country's traditions and history. 
   "Growing up as a third-generation Pakistani-American, I always had fear of losing my Pakistani roots. So, whatever chance I had to represent my culture, I took it and felt passionate about it. I used to always put henna on my hands, wear salwar kameez, and to this day, I still do all of these things," explained Sanaa Bhatti, director of social and cultural affairs at the PSA. Henna is a temporary tattoo that is often used on one's hands or feet for decorative purposes. A salwar kameez is a traditional clothing worn by women that hail from eastern Pakistan and northwestern India. 
    Being born in Brooklyn, with her grandfather and father moving to New York at a young age, Bhatti loves sharing her culture with everyone else for the most part. She feels as though her cultural identity is deeply rooted in her. 
   PSA explained that for students who grew up in Pakistan, they are able to proudly celebrate Pakistani culture and traditions because they understand them. Oftentimes, Pakistani American students are not able to embrace their Pakistani identity to its fullest potential because they don't understand where these traditions originate from or why they are celebrated. "Being that there is such a large Pakistani community at Brooklyn College, I want us all to work together to represent our culture abundantly, not only to the Desi students, but to the non-Desi students and faculty as well," said Bhatti.
  Before delving into building PSA at Brooklyn College, Shahid was initially worried there were not many Pakistani students on campus that were willing to join the club. To spread the word, he reached out to people on LinkedIn to see if they would be willing to sign a petition to make the association official. However, to his surprise, the PSA's official group chat now contains over 150 students.
   "Our goal is to make sure that Pakistan's diverse traditions and cultures reach everyone, regardless of race," said Bhatti.
   The Pakistani Students Association recently held its first event titled "Kab Shab" (translated as chit chat event) on Tuesday, Feb. 28. Looking ahead, members plan to collaborate with the Muslim clubs on campus for the Grand Iftar dinner to be hosted on Mar. 27 as a part of Ramadan, a month of prayer, fasting, and reflection for the Muslim community worldwide. In addition, they are planning an event for Pakistan Day on Mar. 23. In the fall, they hope to have a conference in collaboration with the PSAs at other universities about the political and economic crises that Pakistan currently faces.