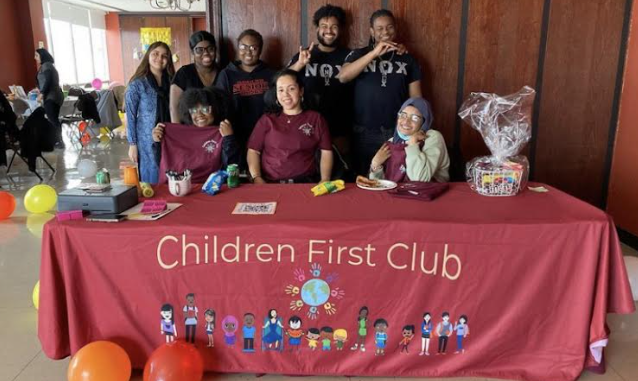 By Serin Sarsour
   Rather than the typical 'bring your children to work day,' Brooklyn College students got to bring their kids to school last Thursday, Apr. 27, to attend Art-tabulous, an arts and crafts event hosted by the Children First Club. With a vast selection of paints and canvases, students and their children got to bond while painting up a storm in the Student Center on campus.
   "It's just rarely that we see students that have the opportunity to bring their kids on campus and do activities together," said Ashley Hidalgo, the president of the Children First Club. "So we wanted to bring something new to the community and kind of help students engage with their children because they may be working and they don't have the time to always do that."   
   The club operates inside James Hall, and members see first-hand how many BC students bring their children to the daycare center before heading to their classes. From being full-time parents and students who also work to provide for their children, they don't always get the chance to spend one-on-one time with their kids in a fun and creative setting. The Children First Club was excited to give these students the space to have fun and paint with their kids before the stress of finals ensues.
   Students and their children were able to paint frames, canvases, and canvas bags together, as well as participate in finger painting.
   One student and mother in particular expressed her gratitude for the Art-tabulous event to Hidalgo. "There was one mother that brought two of her kids that was very happy that we had this kind of event. She doesn't see it [this kind of event] at all. She was able to engage with her children. She was really happy, definitely wanted to see more of this on campus," Hidalgo said.
   Although the event was successful with the help of volunteers from other clubs, the Children First Club noted that they struggled with getting the word out since their club is relatively small. About 20 to 25 people ended up attending the arts and crafts event.
   "We stand for helping mostly at-risk children and giving children a voice," said the vice president of the Children First Club, Savannah Kirby. "Our mission is basically to help children. I know it's a very flat statement, but that is our mission."
   Before the spring semester comes to an end, the club is doing a hygiene drive for at-risk youth, specifically young girls and LGBTQ youth. As a non-profit organization, the Children First Club wants to raise funds and give them access to necessary hygiene products.
   Although Hidalgo will not take on the role of the club's president next semester, she hopes that whoever takes over will continue to connect BC students with their children on campus in fun times like the Art-tabulous event.
   "It's to help children, youth, adolescents. I guess to also unify them, include them into the space, in general, basically teaching others of issues that are affecting them," said Hidalgo.