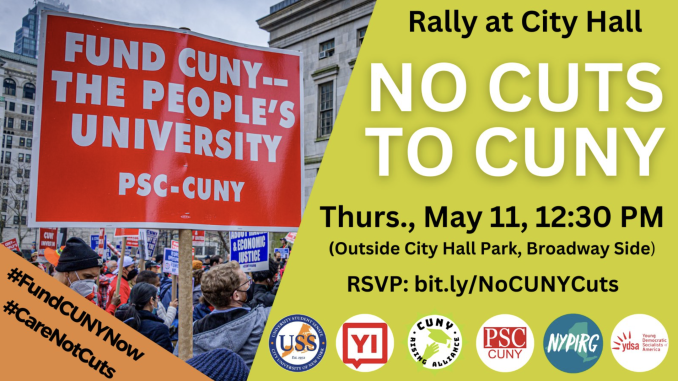 By Kaylin Guzman
   CUNY continues facing many budget cuts as the governor's $229 billion executive budget for the 2024 fiscal year begins to pass with minimal support from elected officials. The progress comes a month late, after the budget deadline was pushed back several times. The Professional Staff Congress, a union that currently represents more than 30,000 CUNY employees, has been actively voicing their opinions on the cuts. 
    Since 2021, PSC has advocated for the New Deal for CUNY, which aims to make the university tuition-free, as well as improve adjunct pay and working conditions, among other benefits. In their final push before Hochul's budget officially passes, they are organizing a rally on May 11 outside City Hall against pending budget cuts and the ongoing hiring freeze, where vacant positions are unable to be filled university-wide. 
   Most of the public funding for senior colleges at CUNY come from Hochul's office, while community colleges mostly depend on funding from the city level. On Apr. 27, PSC released a statement where President James Davis attempted to sway Mayor Eric Adams' recent move towards budget cuts.
   "CUNY graduates strengthen the City's workforce and contribute $4.2 billion annually to the state economy, most of it here in our city," wrote Davis. "No university system lifts more students and families out of poverty and into the middle class than CUNY."
   In attempts to reach many of the politicians, the Twitter account for Brooklyn College PSC tags them specifically and lets them know what their intentions are. Budget cuts will be affecting all schools across the CUNY system. The university's budget has dropped from $234 million to $194 million in the fiscal year of 2023.
   "The city wants exactly what CUNY needs: restoration of the Mayor's draconian cuts, funding for desperately needed academic advisors, resources to increase enrollment, and more," wrote Davis.