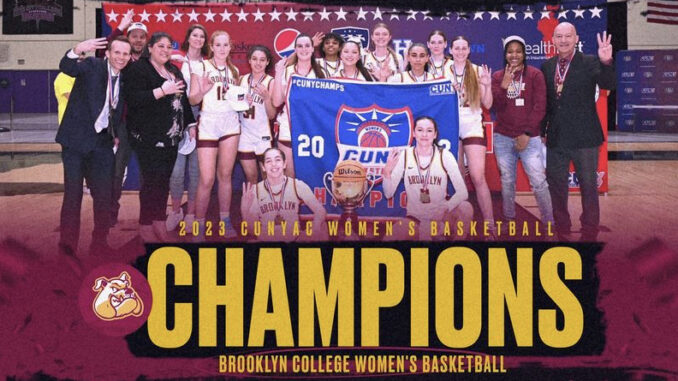 By Oscar Docavo
   Lifting the CUNYAC trophy at the end of the year is not a dream for Brooklyn College women's basketball; it is the standard. Bulldogs fans are living in the golden age of their school's women's basketball team. The Bulldogs have appeared in the past eight CUNYAC finals in a row, winning four of them. Brooklyn has also won every game in CUNYAC play since 2019. The team is now hunting for their fourth consecutive CUNYAC title.
   This season, however, they will be playing without the stewardship of legendary Coach Alex Lang. Lang was in charge of the BC women's team for 20 years, transforming a flailing program into a CUNY powerhouse. The Bulldogs are now led by a familiar face in Megan Campbell. Campbell has played for Lang in the past as a BC student from 2013-2015, and later served as a member of his coaching staff.
   "Alex has done a very great job over the years just establishing the culture of the program. I'm looking to build upon that now and continue the success," said Head Coach Campbell, making it clear that she will do her best to pick up right where the team left off last season.
   Coach Campbell boasts two CUNYAC first-team all-star selections and a first-team Eastern College Athletic Conference honor. That is without mentioning the two CUNYAC Championships that Campbell won as an assistant coach. As the head coach now, she added that her increased responsibility means making sure her players are managing their time well and staying on top of their schoolwork.
   Other than that, Coach Campbell looked at home in the preseason. "I'm really enjoying it. We have a really special team this year, so it's just an exciting time," she said.
   Bulldog basketball has been characterized by scoring often and efficiently. BC has had the best offense in CUNYAC for the past two years, averaging 74.8 and 74.1 in the 2021-22 and 2022-23 seasons respectively. The Bulldogs have also led CUNYAC in three-point field goals made for the past three years in a row. This has been a team with lethal shooters who can score from anywhere. Fouling the Bulldogs is not a good idea either after they finished last season with the best free-throw percentage in all of CUNYAC at .677. No matter what their opposition does, BC finds ways to drop buckets on anyone.
   "We have people that are able to put the ball in the basket. We wanna play a fast style of play, so if everybody is doing their job, the points will come," Coach Campbell said. 
   The Bulldogs will have to cope with the loss of the 2023 CUNYAC player of the year, Gianna Gotti. Gotti's 21.8 points per game were the most on the team and second in all of CUNYAC. 
   "We're looking to definitely have players step up this year and kind of fill that role," Coach Campbell told The Vanguard.
   The player perhaps most poised to take on the mantle left bedding by Gotti is senior guard Ericka James. James was a top-10 scorer in the conference last year, averaging 13.8 points in conference play and 14.1 points in all play. James also averaged five rebounds a game in CUNYAC play. James was named a first-team CUNYAC all-star last season and will look to build on that achievement. Coach Campbell also mentioned first-year Bulldogs Alina Estrella and Anna Kitch as players ready to break out this season. Additionally, BC will be counting on the top rebounder in the squad, senior Sarah James, to have a big year.
   One of the Bulldogs' few weaknesses last season was their defense. The 2022-23 season was the first time since 2017 that Brooklyn did not have the stingiest defense in CUNYAC. The Bulldogs went from giving up 49.5 points a game in 2021-22 to 64.6 in 2022-23. The 15-point difference resulted in the Bulldogs going from first to sixth in CUNYAC's defensive category. Coach Campbell confirmed that defense is a priority for her team going into this season. 
   "We put a big emphasis on revamping our defense, getting a little bit more pressure and just really working on the defensive end, and focusing on the little details that we need to in order to get back to where we were defensively," Coach Campbell said.
   Every team in CUNYAC will be trying to grab the crown from the Bulldogs this season. The likes of Hunter and John Jay will most likely be BC's greatest CUNYAC competition. 
   "We've played them in the championship the last couple of years, so we definitely wanna pack the stands for that John Jay game," said Coach Campbell.
   Given the Bulldogs' dominance in the conference, their real tests will be against their non-conference opponents. Games against Kean University and New York University will be particularly tough tests.
   The Bulldogs will begin their season on Saturday, Nov. 11, hosting Stockton University. The Bulldogs are at the top of the mountain with all of CUNYAC waiting for them to slip up, but the team forms a united front. Though practice seems intense, there are plenty of smiles in between and after the action. This edition of Bulldogs women's basketball will look to spread the ball around, score efficiently, and above all else, continue their legacy of dominance.