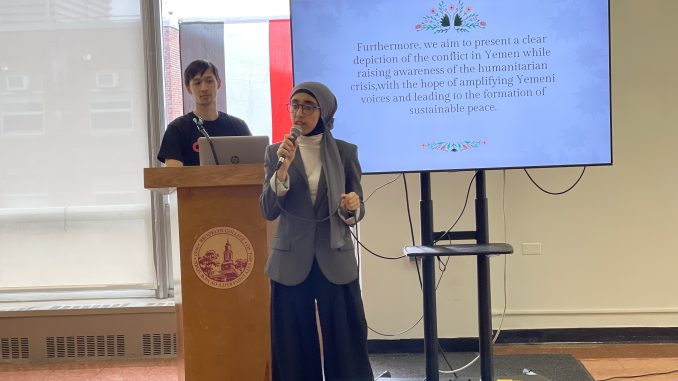 By Kate Dempsey
   Surviving and fleeing a war-torn home country, where millions are starving and struggling to survive, would be paralyzing for many. But not for Hanan Yafai, the president of Brooklyn College's Bridges for Yemen club. Although she has experienced what has been called the "world's worst humanitarian crisis" by the United Nations, existing through Yemen's devastating civil war plagued by famine and civilian deaths, she has not let this trauma rule her. Instead, she uses it as fuel to help advocate for others going through the same.
   "There's this quote that inspires my healing journey is that, 'You are not the darkness you endured. You are the light that refused to surrender.' It's by John Green," she said. "I believe that I am not what happened to me. I am what I choose to become. I choose that my emotional struggle has taught me not to yield and not to fold, rather to strive and lead."
   Yafai and her family lived in the capital city of Sana'a, Yemen until 2017 when they fled to the country of Djibouti via boat through the Gulf of Aden, as no planes went directly to the United States. Compounding the difficulty of reaching the U.S. was the "Muslim ban" imposed by former President Donald Trump on those coming from Muslim-majority countries, which included Yemen.  
   "It was difficult on that long trip. I still remember it and it made me hate boats and everything. I still remember the smell of that day, the weather," she said. "[Trump] listed Yemen as one of the countries to be banned from entering. And my dad was here making sure like all the paperwork is ready for us so we can come to the U.S. So we were kind of stuck, what's gonna happen to us, like our destiny […] but ultimately, we were able to find safety and refuge in the U.S. and specifically New York." 
   Her family faced many additional obstacles once in the U.S. There was a language barrier between Arabic and English, and most of her family was left behind in Yemen. Not only did they have to navigate New York City's hustle culture and bustling streets, they had to also navigate their traumatic experience with the war at the same time. 
   Now a senior at Brooklyn College, Yafai has made strides in helping others who have also been impacted by the war. Founded by Yafai in January 2022, Bridges for Yemen has now become a tool for Yemeni-Americans at BC to find support and solidarity on campus. 
   "As someone who experienced this devastating effects of the conflict firsthand, I felt a strong sense of responsibility to do something to help my fellow Yemeni people. Our purpose is to cultivate sense of belonging with our Brooklyn College community," said Yafai.
   Bridges for Yemen has held multiple events, including a screening of "Hunger Ward" and a Q&A with director Skye Fitzgerald, and a mental health awareness discussion inspired by Yafai's own personal experience as well as through being a neuropsychology major.
   "I started to also discover a lot of things regarding psychology, mental health and then I realized that this is something if I feel the need as an individual, as a Yemeni American individual, I thought everyone in the community probably could relate in some sort, perhaps not saying it outloud. So I thought like, 'Okay, I'm gonna take this opportunity and bring it into the Yemeni community,'" she said. 
   In addition to advocating for the destigmatization of mental health, Yafai has conducted neuroscience research in many realms of her field, such as bilingualism cognitive advantage under the CUNY Research Scholar Program, facial nerve regeneration with Dr. Mark Stewart Laboratory at SUNY Downstate, and studying depressive disorders at the Liston Lab at Weill Cornell University.
   Graduating this spring, Yafai will continue her neuropsychology research after BC, using it to help make a positive change in others and the world. She hopes with her advocate role that she can inspire others to believe that they can make a positive difference as well, no matter what challenges they have faced. 
   "I thought like with research I can benefit millions and billions of people and make a little difference. I believe in the power of education and advocacy to make change," she said. "This is very important, to remember that never underestimate anything you do. I think every small action counts, and it's going to make a difference in the lives of others."