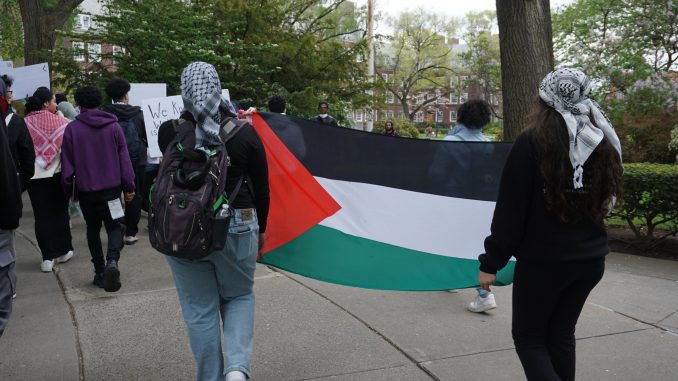 By Kate Dempsey
   Protesting chants and calls rang through Campus Road as many students, faculty, and other visitors stopped to stare as they made their way onto campus Thursday, Apr. 27. About 70 people were part of a protest held by the Brooklyn College's Students for Justice in Palestine chapter. The protest, titled the 75-Year Nakba (Arabic word for "catastrophe") Rally, began directly outside of Tanger Hillel, a Jewish community center for Brooklyn College students. 
   "The goal of this protest is to spread awareness on the genocide, displacement, and ethnic cleansing the Zionists are committing against the Palestinians. We had to let them know there's nothing to celebrate when they have committed nothing but crimes on the Palestinians for 75 years," said Laila Mazhar, president of Students for Justice in Palestine and a sophomore at BC.
   Inside the Tanger Hillel building was a celebration of Israel: blue and white balloons adorned the inside of the building, and an abundance of Israeli food was laid out for many to enjoy. Attendees of the Independence Day Fair had access to an inflatable bouncy castle slide and a photo booth with accessories, all completed with a chance to win a raffle prize. Last year, the celebration took place on the West Quad with SJP protesting outside the college's gates. The day marked when Israel declared its independence in 1948 and created a homeland for Jewish people, a safe haven following the atrocities of the Holocaust, known as the "Shoah" (Hebrew for "catastrophe"). 
   "Today we are celebrating Israeli Independence Day […] It is very special for us because it's 75 years since the independence and since the declaration of independence," said Allegra Timsit, the head of the Israeli Independence Day Fair Committee and a senior at BC. "And we are the Jewish voice, the Jewish presence on this campus, and it really is very important for us to celebrate where we come from, our home, and having to be able to celebrate."
   For Palestinians, however, Israel's independence is clouded by trauma and injustices on their ancestors while being displaced in the process of establishing their homeland. In order for Palestinians to feel solidarity, many feel that the larger BC community needs to acknowledge what the holiday means to Palestinian people. 
  "There's no such thing as Israeli independence," said Jihad Ahsan, secretary of Students for Justice in Palestine. "In fact, it is Palestinian genocide and ethnic cleansing which is continuing to this day."
   To religious leaders in Judaism, the protest is a reminder of the injustices experienced by Palestinians, and serves as a call to action to help them.
   "By trampling on the rights of an entire people by occupying a lot of people's lands, killing and stealing the lands of others, this compounds the crime against humanity and it's a crime against Judaism, our religion," said Joseph Kohn, a rabbi and speaker at the protest and a member of the Anti-Defamation League. "It's our obligation to speak out against this injustice."
   Tensions were high at the protest as many different religious sects argued about the issue. Phones could be seen recording from the street and from buildings stories above, creating anxiety among participants. NYPD Community Affairs Officers stood by as a precaution. To many, the protest came as no surprise given the protest held last year by Students for Justice in Palestine. For Jewish students at Tanger Hillel, the presumed protest meant taking additional precautions to ensure safety. 
   "We knew that there was going to be protests, especially seeing what happened last year. It was no brainer. So we always take precautions from before they announce that they were going to protest," explained Timsit. "Everybody has their own free speech. They have their opinion, we have our opinion, it is what it is. As much as we would love peace, it's just different perspectives on the issue at hand."
   For some members in the BC Israeli community hoping for a resolution to the conflict, open dialogue between the different parties could be the means of achieving greater understanding. 
   "Everybody has their right to civil protest. I would personally much prefer for them to come in and for us to be able to have a conversation and create peace and understanding between people," said Sarali Cohen, an engagement associate at Tanger Hill and senior at BC. 
   As festivities continued inside, many protesters continued to chant at Tanger Hill and walked through campus waving Palestinian flags and wearing traditional Palestinian scarves known as Keffiyehs. Each pattern within the Keffiyeh represents strength, resilience, and perseverance, and serves as a means of creating solidarity between Palestinians through a national symbol. 
   Both groups waved their flags in the air that day, remembering what their ancestors had to endure in order to do so. Both groups have suffered what has been called a "catastrophe" in their history: "Nakba" for Palestinians and "Shoah" for the Jewish people. 
    "We also want to make it clear that Brooklyn College, and Brooklyn College students, does not stand with genocide," said Ahsan. "We stand against all forms of hate and oppression against all people. And in this case, this Independence Day is a direct attack against the Palestinian people."