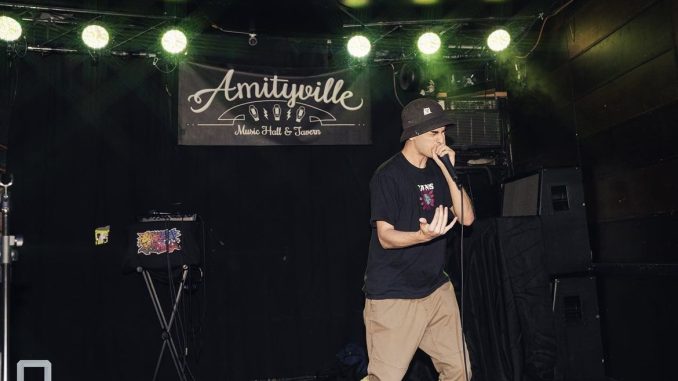 Paulina Gajewski 
   The answer to the age-old riddle, "What musical instrument can you hear but not see or touch?" is, of course, the voice. This question takes on a new dimension with beatboxing. Using solely one's voice, beatboxers are capable of creating a variety of sound effects and rhythms. 
   Brooklyn College beatboxer Paolo Lembo has displayed his skills in several shows with the college's Music Conservatory. Beatboxing exists as a part of a longer history of hip-hop. 
  "The culture surrounding it is very beautiful in my opinion," Lembo expressed to The Vanguard. "It extends from hip-hop culture, which is very human. Since it's small, everyone is closely knitted together. It's like a family."
   In the heart of New York City in the 1970s, the rising hip-hop culture gave platforms to not only new musicians but new forms of music as well. Beatboxing is considered formally as vocal percussion, the art of creating sounds with just the voice with the goal of imitating instruments. 
   It has roots in many music genres prior to the modern era, including influences from early rural, blues, ragtime, and forms of African traditional music. Well-renowned artists such as Paul McCartney, Pink Floyd, and Michael Jackson had great impacts on beatboxing methods today. 
  Beatboxing has changed since its emergence in the '70s, as Lembo described. "I think people still think of that '70s sound, which is something to be appreciated. Some of these things are so mind-boggling, and I'm so proud of people being able to go from doing two layers to four layers at once," he said.
   Cultural and economic diversity in New York allowed for beatboxing to flourish. Bands would usually use drum machines, then known as "beatboxes," to provide rhythm. When drum machines were out of budget, musicians would often mimic the sounds to assist the MC in a performance. Among its first pioneers was Doug E. Fresh, one of the first "human beatboxers."  
   Lembo's contemporary inspirations include beatboxers NaPom, Colaps, Chris Celiz, D-Koy, and Footbox G. "I kind of grab from everyone," he stated. "It's not so much about its percussive elements, there is also very musical-sounding stuff." 
   Three main pillars of perfecting one's sound are breath control, finding balance, and developing mouth muscles. 
   "Usually people are up there for about five minutes doing wild stuff, and you have to remember to breathe and fit those breaths in the beat that you're doing, or else you'll have awkward spaces," Lembo said, emphasizing the importance of breath control. 
   It is integral to find a balance between outward and inward sounds, or the periods of exhalation and inhalation, respectively. All of this is tied to having profound muscle memory. 
   Lembo, a student at Edward R. Murrow High School prior to coming to Brooklyn College, found his passion for beatboxing at the school's annual student-run musical competition, coined SING!. 
   Lembo attested to wanting to employ the unique factor of beatboxing into his team's performance during the competition, saying, "I wanted my team to stand out, so I thought beatboxing might be something cool."
   Though his team didn't end up beatboxing, his passion has allowed him to perform in various shows with the Brooklyn College Conservatory, as well as shows outside of the college. He  performed at the Composers Concert on Feb. 22, the Electroacoustic Festival on Mar. 16, and with the Jazz Band on Apr. 21.
   Lembo has also worked on events outside of the campus. He used to attend the Beatbox House, a residence that started in Brooklyn as a location for beatboxers to socialize and work on their craft. A competition used to be held monthly, and people would come in from all around the country to compete. 
   "It was a really friendly competition," he recounted. "Even if you weren't the best, they would still cheer you on and give helpful advice."
   He recently did a collaboration with a dancer and rapper in a performance called "En Utero," and has worked with the Mark Morris Dance Group. Lembo urges people to check out beatboxing shows. Each show is a display of people pushing the boundaries of the capabilities of our bodies. 
  Beatboxing, though fascinating, does not come without its challenges. It is a relatively quiet art form and often requires amplification. Beatboxers often find themselves amongst street performers. The city, however, has laws and mandatory permits that are a limiting factor for amplification. 
   Lembo also emphasized that though it is often well-received, the audience's reception ebbs and flows, and not many may appreciate it fully. To combat this, Lembo suggests, "Beatboxing should be featured alongside more shows and music genres people are already familiar with."
   Regardless of the challenges, beatboxing still has many positive aspects. "Since beatboxing is something that's not very well-known in contemporary culture, there's a shock factor to it that I really enjoy," Lembo said. Not only is it a fun party trick, but it's also a portable form of art. We're built with all the equipment, always carrying it. For many, it has served as a great form of expression; and its ever-changing technicalities prove beatboxing is an art form to be followed and enjoyed.