Students and faculty majoring in Italian were surprised to learn this week that their major had been placed on indefinite hiatus, and that most upper-level Italian classes planned for Spring 2020 had been cancelled.
   The move angered many Italian-American alumni, but it also hinted at wider problems within the Italian program, which is currently struggling with dwindling student interest and AWOL faculty – the latter problem plaguing other majors within the Modern Languages and Literatures Department.
   "[The Italian program] has been placed on hiatus so that we might take some time to restructure and reimagine the major and minor," said Vanessa Perez-Rosario, chair of the Modern Languages and Literatures Department. She stressed that "Italian classes will continue to be offered as part of the college option and electives will be available."
   "The major and minor need to be reorganized, new classes developed, study abroad programs developed, so that we can build a program that will attract students."
   According to data provided by Perez-Rosario, student enrollment in the Italian program has been in the single digits since at least 2010. Last semester the program hit an all-time low in enrollment numbers, with only one student enrolled as an Italian major, only one as a minor, and only one taking a concentration in Italian.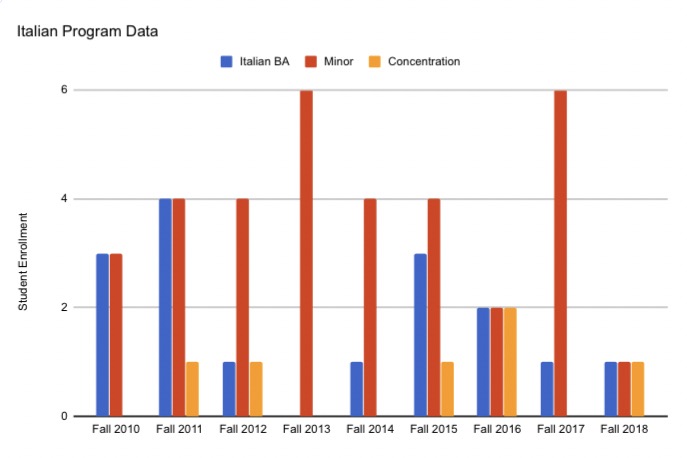 The program's low student interest is also evident in enrollment numbers for individual classes. A total of nine students are enrolled in Italian department courses above the entry-level. ITAL 2021 (Integrated Language Skills) and ITAL 3610 (Landmarks of Italian Literature) have a maximum capacity of 20 students, but only four students are enrolled in the former class and only three in the latter.
   These student enrollment numbers are especially low compared to that of other language majors. For instance, 18 students are taking French 2030W (Advanced Language Skills II) – double the enrollment of all upper-level Italian department courses combined.
   There are other signs of student disinterest. On Tuesday, Sept. 24, Perez-Rosario and faculty member Pedro Cabello del Moral conducted a Language Lunch Tables event during common hours in Boylan Hall, to provide an opportunity for students of all language levels to practice their language skills with one another and members of Brooklyn College faculty and staff. Students interested in practicing their knowledge of Italian and Spanish were invited to attend that day. Of the eight people in attendance, seven were fluent Spanish speakers. The eighth person present was a student interested in Italian whose role at the Language Lunch Table session was to assist students who want to practice speaking Italian speaking. No other students showed up for Italian sessions.
   According to Perez-Rosario, there were bigger turnouts during previous lessons, in which the languages of focus were Arabic, Russian, Chinese, Japanese, French, and Haitian Creole. For her, this is further proof that students are not currently interested in the college's Italian program.
   Italian-American alumni don't agree with her verdict. Many have taken to the Internet to express their frustration, e-mailing members of the BC administration asking them to reverse the decision.
   "No one respects the language and culture that made New York and the United States a great art, culture, science and building headquarters of the modern world," wrote Maria Fuccio-Di Graziano, who attended BC from 1986 to 1990 and served as president of the college's Italian Culture Club. Di Graziano has worked with many organizations and companies to spread the word of what she believes is an injustice to the Italian culture, including spearheading a letter sent to the College by the Washington, D.C.-based Order Sons and Daughters of Italy in America (OSDIA)'s Commission for Social Justice.
   The OSDIA letter, written by President Robert M. Ferrito, alleges that the cancellation of the classes was not merely unfortunate, but discriminatory.
   "In 1979, Italian Americans were declared a protected minority by Federal Judge Constance Motley Baker in a lawsuit brought against the State and City University of New York," Ferrito wrote. "Should we deem that your decision to cancel Italian language classes constitutes discrimination, we will refer it to our legal team to investigate, and if necessary, take action."
   Simliar claims were made by Luigi Bonaffini, who teaches entry-level Italian courses at BC. In an e-mail Bonaffini wrote posted on Facebook by the John D. Calandra Italian American Institute, he claimed that "Italian was the only language targeted" in this decision and that the Italian-American community within the CUNY system and Brooklyn College was "under attack." In the message, he urged that e-mails be sent to the college President and Provost, as well as to Perez-Rosario and Humanities Dean Kenneth Gould.
   One of the people sending these e-mails was Bernette O'Connor, a parent of a BC student who had an extended e-mail exchange with college Provost Anne Lopes. In their exchange, a transcript of which was provided to the Vanguard, she questioned how the college could allow the Italian department to fall into such disrepair.
   "What type of outreach was done within the Foregn Language Department to promote the Italian Language Major? What type of outreach was done to the 'undecided' students to perhaps spark an interest? Did Academic Advisors specifically offer it as a choice?" O'Connor asked Lopes.
   Lopes countered that the department's decline was inevitable giving shifting college demographics.
   "I have been told by our Italian language faculty that students enroll in their heritage languages and rarely study another language," Lopes wrote. "When they do they elect languages that have the most currency in the job market. […] Since most students who come to Brooklyn College reside in the borough, immigration to Italy from Brooklyn has declined precipitously since the 1960s, and students are generally employment and career focused when selecting a major, the decline in enrollments in Italian is not surprising."
   But there may be another factor in the department's decline. According to an anonymous source within the Modern Languages Department, several faculty members within the department, including the Italian program, are not doing their jobs. The source singled out Italian professor Claire Huffman, who's on record as having taught an average of two in-person courses per semester, but allegedly does not show up to teach at least half of her classes.
   "Huffman never teaches online but she has three classes and each class is supposed to meet twice a week. She will come one day, teach three classes and disappear for the rest of the week," the source told Vanguard. Multiple sources who spoke to Vanguard, as well as student evaluations posted on RateMyProfessor, confirm that Huffman regularly gives online instruction in-lieu of in-person class time.
   "Her classes are not online," the source continued. "Huffman was supposed to be teaching here. Just imagine working somewhere and you show up half of the time but they're paying you a full salary."
   The Vanguard has reached out to Professor Claire Huffman but she has not immediately responded to comment – possibly because, as the source claims, she "would not answer e-mails."
   The source also called out another Modern Languages professor. According to them, French professor Bernd Renner is currently teaching six courses and has not consistently appeared during all class sessions. Research shows this claim is inaccurate: Renner is actually teaching seven courses this semester (French 2030W, 2120, 3510, 5070, 7010X, and 7510X, as well as MLAN 2610). Renner allegedly provides students with instructions and resources needed to pass his courses, but inconsistently appears to show up to teach students in person. The source claims that these occurrences have been an ongoing problem for 20 years.
   Renner could not be reached for comment before press time.
   This upcoming semester, Brooklyn College will continue to offer Italian language courses such as: Italian 1010 Basic Language Skills, Italian 4710 Writings of a Major Italian Author, Italian 2030W Advanced Language Skills II, ENGL 2003 Italian American Literature and Film, and MLAN 2610 Italian Literature in Translation. Perez-Rosario says she's debating whether there's sufficient student interest to re-open Italian 1020.
   "We hope that with enhanced general education exposure, interest in the Italian language and Italian history and culture will grow over time," Lopes said. "Our Italian faculty will continue to teach Italian language, literature, history, and culture courses as they always have."
   Still, some, such as alumna and former Italian minor Dina Sardo claim more could be done.
   "During my time in college studying a minor in the language, both the major and minor had many students enrolled," Sardo said. "There are many people who I'm sure would be more than happy to try and promote the courses and culture, so why isn't anyone doing anything?"