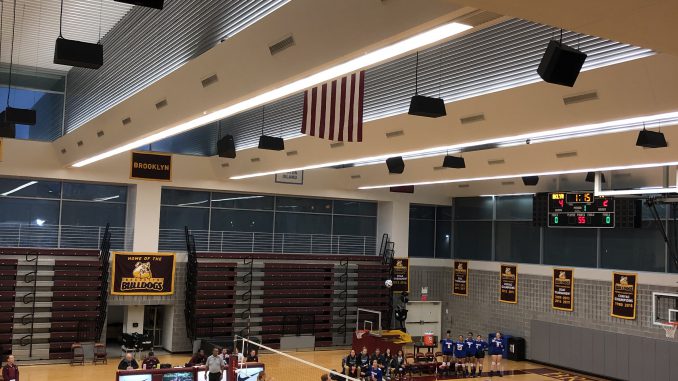 Brooklyn College's women's volleyball team faced off against SUNY Purchase Thursday night and dominated the match at every turn. 
At home, in the West Quad Building on campus, the Bulldogs were in their grey uniform, and their opponents were in a royal blue. Assistant Coach Michael Pratt knew Purchase was a weaker team heading into Thursday's game, but preached to his team to play their game and not play down to the competition. 
"We knew we were a stronger team," Pratt told me after the game. He also told his team to focus on defense and make a great first pass because; "everything moves from there."
Playing down to one's competition can be a surefire way to help the other team be successful. Right from the opening serve, it was clear Brooklyn was focused on not letting this happen. 
The Bulldogs' chemistry and organization were beautiful things to watch. The players' touches always seemed to find their teammate right where they needed to be, showing a cohesion that is paramount to a successful unit. The anticipation of each other's and their opponent's shots led to great spikes and blocks. 
Brooklyn opened up the first set 13-6, prompting Purchase to call a timeout. It was clear the Bulldogs were the more dominant side and had strength in numbers and agility. They ended up winning the set 25-14. 
Number 7, Madison Cronk of the Bulldogs, showed her prowess in the air with powerful spikes and blocks, which Purchase had no match for. Number 2, Ashley Fung, was also a standout performer. Look for these two to keep improving as the season goes on.
The next set was more of the same, and Brooklyn won it 25-11.
Starting off strong in the first two sets allowed the coaches to play some of the players who normally may not get too much time on the court. Sports are all about the team winning, but by having more players touch the court and play the game they love, the morale and unity of the team is only going to improve.
The third set was no different than the first two, with the Bulldogs rolling to a 3-0 win. This gave them a two-game winning streak going into a doubleheader against two CUNY teams over the weekend. One of those was Hunter College, a team that Pratt says usually wins the tournament. 
"It will be a measuring stick to see where we are," he told the Vanguard. Brooklyn split the doubleheader, beating Lehman 3-0, but losing to Hunter 0-3. 
The Bulldogs are a very young team, with a few freshman and sophomore as key players for them. Naturally this means the core should only get better as they play more with each other. Now at 5-4, and with a game on Tuesday, Brooklyn will look to keep improving and turn their young team into a powerhouse by the end of the year.